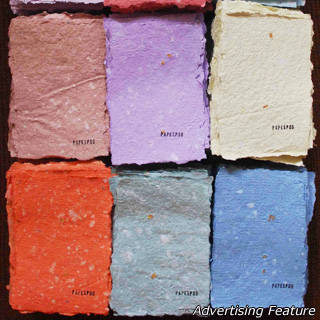 The wedding is typically a one-day affair, which is why most couples are finding ways to use their wedding resources wisely. Moreover, the popularity of do-it-yourself projects has helped couples realize that a memorable celebration doesn't have to be a wasteful one. While being resourceful lets you to save on your wedding budget, doing so also supports a nobler cause: preserving the environment.
One way by which you can be smart about your wedding details is to pick out things that you or your guests can use even after the wedding. Among the things we found that fall under this criterion is Paperpod Seedpaper's sheets. The sheets are handmade and recycled, but that's not the best thing about them--they also grow plants!
Each sheet is laden with seeds (you can choose from snapdragon, marigold, moss rose, chili, tomato, carrot, and eggplant), and these will allow you to grow seedlings when you've used the sheet as you would a normal sheet of paper. All you have to do is moisten the sheet, place it inside a plastic bag, and wait for the seeds to sprout in a few days. Simple enough, right?
ADVERTISEMENT - CONTINUE READING BELOW
CONTINUE READING BELOW
Recommended Videos
You can use Paperpod Seedpaper's seedsheets as your chic and eco-friendly wedding stationery--their team can customize invitations, thank you cards, and other paper collaterals for your event. You can even collaborate with them to come up with designs that will complement your wedding theme and palette.
For ideas on how to incorporate Paperpod Seedpaper's sheets into your wedding details, see our gallery below.
To see Paperpod Seedpaper's listing, click here.
You can also like Paperpod Seedpaper on Facebook by visiting their page here.

Comments
Load More Stories