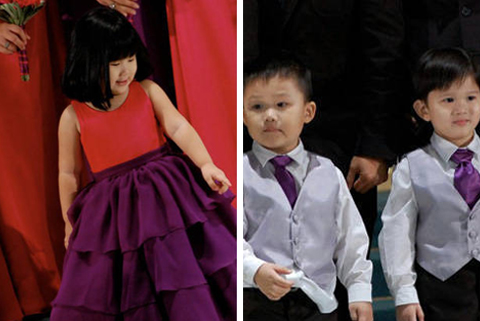 While it's a natural concern to make sure that every member of your entourage is dressed up according to your wedding's theme, it is also important to be mindful of how you'll dress  up the young ones. Prepping young girls and boys for a formal event can be quite tricky--what looks good on older members of the entourage may not necessarily work for the younger ones.
To help you with dressing up the children in your entourage, we asked Sasha Clothing Company Inc.'s Creative Director Mimi Ferrera-Lazaro, who also owns a line of costumes for babies, about the key things to consider when dressing up your young entourage.
Age
Age is the most important thing to consider when dressing up young members of the entourage, as it generally determines what style is appropriate for him or her. When dressing children for a formal event such as a wedding, there should always be a balance between style and comfort. Remember that younger children are inclined to be more active, and less likely to sit still. While you want them to look properly dressed for the occasion, they should also be able to move. To keep kids cool and fresh, Mimi suggests sleeveless ball gown dresses for girls and cotton shirts with waist coasts for boys.
ADVERTISEMENT - CONTINUE READING BELOW
Venue
Children have a lower tolerance for extreme temperatures, so it is important to consider your venue's ventilation when designing their clothes for your big day. Will the venue be indoors or outdoors? Will it be in an air-conditioned venue or not? If your wedding venue is outdoors or has no air-conditioning, opt for lighter, breezier fabrics that will keep them cool. For venues that have air-conditioning, provide your young entourage with shawls or boleros to keep them warm.
Shade
The fabric used for the gowns of the children in the entourage is usually the same as that used for the adult members. But if the color motif is too dark or bold for kids, such as wine red or plum, opt for fabrics in lighter shades for the kids. (For example, in Mimi's wedding, she dressed her flower girls in pink because her color motif, violet, was too dark and would have made the kids look older.)
ADVERTISEMENT - CONTINUE READING BELOW
If you really want to stick to your wedding's color palette, you can use white dresses accented with sashes in your color motif. This way, the color won't look too overpowering when your entourage walks down the aisle.
Fabric
According to Mimi, you can choose practically any kind of fabric for young members of your entourage, as long as you remember to have their clothes lined with Gina silk. This layer of fabric prevents children with sensitive skin from getting rashes and other skin irritations. Also, remember to ask the parents of your young entourage members if their child has skin asthma or any other skin diseases--clothes made of cotton are advisable for children with such conditions, advises Mimi.

Including little boys and girls in your entourage brings a breath of fresh air to your wedding. You want them to bring their energy and exuberance to your event, and the best way to let them do that there is to make sure they're happy with what they're wearing.
ADVERTISEMENT - CONTINUE READING BELOW
You may also want to check:

Comments
Load More Stories