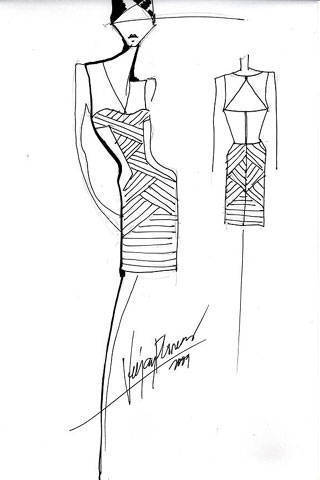 Just when I thought that choosing my wedding gown would be difficult, I now officially have writer's block just as I am about to blog about it. Unlike most brides-to-be, I deliberately delayed the selection of my gown up until the very last minute. Bridal magazines everywhere preach that a wedding gown is supposed to be perfect, immaculate, and reflective of each bride's true style; big words that certainly pressured little old me.
It is not that I am not excited to pick my dress. It's just that I am so terrified to change my mind at the last minute, or God forbid, to choose the wrong one. When I looked at my short list of preferred gown styles, I immediately noticed that I gravitated towards two totally different styles: clean/classic and romantic. Such was expected, really, as my personal style is schizophrenic, to say the least. I loved the voluminous dresses using unembellished duchesse stain, but at the same time, I also adored skin-hugging French lace and tulle. I decided to retain both types of pegs in my clear book and pass on the headache of reconciliation to my designer.
ADVERTISEMENT - CONTINUE READING BELOW
My second road block was the fact that I really do not want to spend too much on a dress that I will only wear once. It is difficult to put a price tag on artistry, craftsmanship and sheer talent, which is really what one pays for when hiring a professional designer but a gown does not have to be expensive to be beautiful. The wedding dress is but second fiddle to a happy bride, as she will be beautiful no matter what. Knowing this provided me with great relief and inspired me to push on.
Armed with magazine cut-outs and brutal honesty that I needed help with my dress, I set an appointment my favorite designer, Veejay Floresca.
I first met Veejay in 2008. I was still a respectable US size 4 and I needed a dress for our sorority ball. Veejay was referred to me by my maid of honor, Lelet. Lelet's best friend from med school, Abbie, happened to be Veejay's best friend from high school. Veejay and I hit it off immediately. I learned that his dad was a lawyer (I was a law student then) and that he could quote back to me my winning answer from Binibining Pilipinas, verbatim. Veejay created a beautiful old rose floor-sweeping stunner for me and I have been a fan ever since.

ADVERTISEMENT - CONTINUE READING BELOW

I next worked with Veejay in 2009 for my law school graduation ensemble. I was determined to not look like a graduating student and Veejay definitely made it happen. Thus, it only made sense that I also ask Veejay to design my wedding gown. Late in 2010, after JP's first proposal, I also broke the great news to Veejay. He graciously stuck with me even when our initial wedding date got moved. When I was good and ready to talk business again, Veejay was as motivated as ever.

ADVERTISEMENT - CONTINUE READING BELOW

I showed Veejay the following pegs for my bridal gown. Initially, I wanted a modern Filipiniana gown using piña cloth. I found piña to be romantic, just like lace. Then, I went through my minimalist phase and showed him a peg from Rosa Clara. I absolutely loved the low back! Thereafter, I shifted back to romantic and showed him this exquisite corseted number by Vera Wang. Veejay did not make me feel bad about my confusion, which at times, bordered on contradiction. He reassured me that both styles were beautiful but asked me to identify which I really liked the most. I told him that I preferred a simple and classic gown with just one unique detail. He also asked me to identify what I liked and what I didn't. I just told him that I did not want something that is in fashion and that I did not want to look like all the other brides out there. After dumping all of that information on his lap, he promised he would sift through it and prepare some sketches. I left his shop feeling relieved that I had sought professional help.
ADVERTISEMENT - CONTINUE READING BELOW
Three weeks later, Veejay presented his dress designs to me and my mom. He certainly did not make choosing easy as all his sketches were absolutely beautiful. I was so happy that my mom agreed with the design I chose. Veejay also designed a beautiful dress for my ageless mother... on the spot! My mom and I proudly showed the designs to my dad that same night. I also showed the sketches to JP but I did not tell him which one I chose (to date, I still haven't told him). I asked him to guess and he actually guessed incorrectly. While his guess made me entertain some second thoughts about my choice, I am still sticking to my original choice because I have never seen a gown like it. I think it really reflects my personality: classic but unique, off-beat and loveable at the same time.
Choosing the right designer is just as important as choosing the right dress. A good designer will always listen to your input and play on your strengths. I have the privilege of having my dress designed by someone with whom I have history. While some might not be in the same boat, there is no reason to fret. Designers these days are becoming more and more about individuality and customization which is why brides should not be afraid to make their preferences known.  However, brides must also know when to listen. A designer is a professional and part of what you are paying for is their expertise and experience. For me, any wedding gown is beautiful when it is both a designer's work of art and a bride's expression of herself.
ADVERTISEMENT - CONTINUE READING BELOW
-- Tere

Comments
Load More Stories