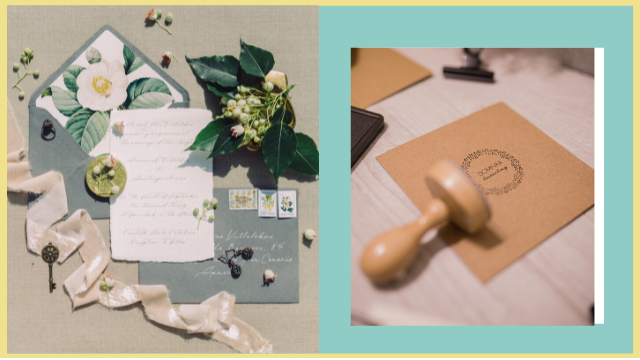 Just because you're a budget-conscious bride-to-be doesn't mean you can no longer have a nice wedding. Apart from looking for good vendors that offer products and services that are within your preferred price range, you can also try going DIY. If you love arts and crafts, for instance, you can opt for DIY wedding invitations. You may follow any of these tips:
ADVERTISEMENT - CONTINUE READING BELOW
How to Make Your Own Wedding Invitations
1. Flaunt your watercolor skills
Are you one of those people who have gotten into watercolor recently? If you are, then why don't you incorporate that newfound passion of yours into your wedding invitation? There are so many unique designs you can easily pull off with watercolor.
You can paint classic-looking floral designs and dreamy landscapes or even experiment with colors by splashing them on paper. You can try different brush strokes to come up with artsy lines and curves, too. Afterward, you can have your masterpiece scanned, so you can use it as background for your invitation.
If you need some inspiration, you may check out this video:
2. Put your beautiful handwriting to good use
If you've mastered the art of calligraphy or are simply blessed with beautiful handwriting, this option is perfect for you. All you need is a reliable calligraphy pen and high-quality paper on which the ink wouldn't feather or smudge. You can also use a brush pen.
Once you have these essentials, you can start working on your invitations. Feel free to explore different layouts and colors before finally deciding which one to scan and reproduce for your actual cards.
Of course, it would be cooler if you'd also be able to do calligraphy on the envelopes. But since addressing envelopes can be tricky, you may want to check out this tutorial first:
3. Use stamps
Another cost-efficient way of making your own wedding invitations is by using stamps. Online stores that sell arts and crafts supplies usually carry these items that come in different designs like vintage floral prints and retro borders. You can also choose between wooden and clear stamps, which are both commonly sold online.
Customized stamps are great as well. All you have to do is find a stamp maker that can either create a design for you from scratch or simply make a stamp according to your design, which can even text.
ADVERTISEMENT - CONTINUE READING BELOW
Once your stamps are ready, get the stamp ink pad and paper of your choice, so you can start stamping. Just make sure your hand is steady as you press the stamp against the paper. For more tips, you can watch this video:
4. Apply scrapbooking techniques
If you're fond of washi tape rolls, ephemera, and stickers, the good news is, you can use them to create your own wedding invitations that are perfect for more laidback and intimate celebrations.
Using these materials, you can play with different colors and textures by combining all sorts of materials from your arts and crafts supply collection to create cohesive pieces that perfectly capture your creative and quirky side. 
You may also consider creating wedding invitation holders using lace, which is another material that's commonly used in scrapbooking. Here's how you can do it:
5. Use dried flowers
Pressed flowers have been popular lately. More and more people have been using them on their craft projects, especially those that involve resin. In case you haven't thought of it yet, you can use the same pressed flowers on your wedding invitations. 
ADVERTISEMENT - CONTINUE READING BELOW
Start by applying a small amount of white PVA glue (like Elmer's) on the bloom of your choice and press it against the card. Feel free to arrange them however you like. For a more regal look, you can also use a wax seal to bind the flower to the card by its stem.
Do you want to take things to a whole new level by drying flowers by yourself? You may follow the steps in this video:
6. Let gold foil do its magic
Sometimes, even a bit of gold is more than enough to make something stand out. This is why you should also consider using gold foil sheets when crafting your own wedding invitations. But before anything, you have to find a durable type of paper on which you can print your cards.
When they are ready, you can proceed to the next step: adding the gold foil sheets on them. Apply a thin layer of glue on the part where you want to add some foil then tear off a tiny portion of foil and press it against the glue. Don't forget to flatten the foil by removing any air bubbles underneath.
ADVERTISEMENT - CONTINUE READING BELOW
You may also make use of gold foil flakes, which are also widely available these days. Here's how you can use it on your wedding invitation:
7. Sign up for a Canva account
There are many things you can do with a Canva account and designing your own wedding invitation is definitely one of them. You can either select one of the templates available on the platform or create something from scratch. 
What's good about this program is it allows you to choose from a wide array of fonts and other elements, including frames and borders, photos, and graphics. It even has watercolor-style elements that will allow you to come up with a design that others would easily assume as handmade. 
It can also be used to add texts to the background you've created using other materials like watercolor and stamps. Just have it scanned, save it as an image, and upload it to Canva so you can add texts to it. 
ADVERTISEMENT - CONTINUE READING BELOW
Haven't used Canva before? Let this video guide you:
Besides being budget-friendly, DIY wedding invitations are also more personalized because you are creating them on your own. And since you are really in control of the entire process, you also have the liberty to try other steps and even combine the methods included on this list. Be creative and have fun!
READ MORE: 
12 Simple Yet Chic Wedding Dress Designs That Are Perfect for the Minimalist Bride
How This Couple Spends Only P5,000 for Their Intimate Wedding
This Couple Tied the Knot at Sunrise and the Photos Are Breathtaking
The Little Details in Bianca King's Low-Key Wedding in Sydney
Load More Stories