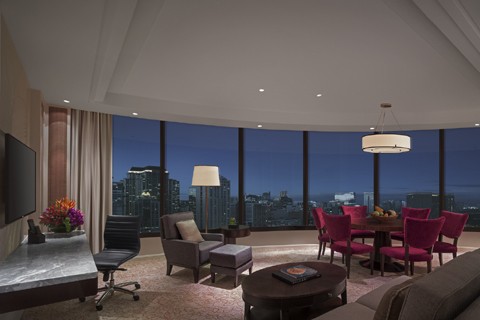 Aside from choosing the right venues for the ceremony and reception, marrying couples look for a luxurious yet comfortable place for their wedding preparations. Nestled in the heart of Metro Manila, Edsa Shangri-la, Manila offers an unforgettable experience for your wedding day.
Edsa Shangri-la, Manila boasts of their world-class amenities and heart-felt hospitality, which they offer for their marrying clients. Just recently, the hotel's Tower and Garden Wing suites have been upgraded with freshly renovated and redesigned rooms for your romantic affair.
The modern Filipino aesthetic is evident in the Tower Wing Suite's design, which is perfect for posing for your pre-wedding portraits. The suite's style infuses the space with touches of mother of Pearl, Anahaw leaf print patterns and fine local wood. Also, the Tower Wing suite offers a spacious living area, an intimate dining space and a guest power room, ideal for your momentous event.
If you opt to have an earthy ambiance, The Garden Wing Premier Suite makes a fine choice. The suite exudes natural and wooden elements that lend a cozy feel that marrying couples will love.  The perfect view of the poolside allows you to have a relaxed and soothing vibe for your most special day.
Moreover, the exclusive Horizon Club is most certainly the cherry on top when you indulge in your stay at Edsa Shangri-la, Manila. Marrying Couples are treated with exceptional service at the club, which serves refreshments throughout the day and decadent gourmet nibblers and cocktails at sundown. A hearty breakfast is served daily, making a perfect jump start to your most memorable day.
ADVERTISEMENT - CONTINUE READING BELOW
With Edsa Shangri-la, Manila's many treasures, you and your beau will surely have a once-in-a-lifetime experience on the day that you say "I do".
Comments
Load More Stories