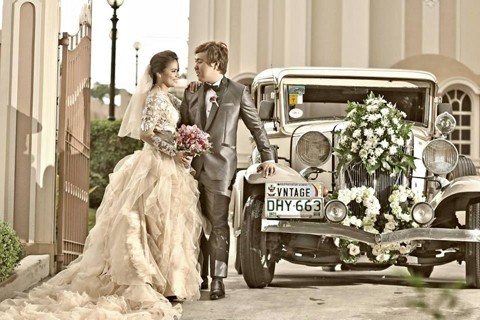 Every wedding gown must showcase the wearer's personality. You have to walk down the aisle with enough confidence that your gown is a reflection of you, and that every detail tells something about your story.
Czarina Villa is a fashion designer who is dedicated to create feminine and modern wedding gowns. Czarina took up Fashion Design at La Salle College International, and she graduated in 2004. Right after her graduation, she was immediately given a big break. She was quickly featured in Preview Magazine, and Ystyle of the Philippine Star.
Her heartfelt relationships with her customers are what make Czarina different from the other designers. "I work hand in hand with the bride every step of the way. I don't just run the show; I constantly ask for the bride's approval."
Czarina makes sure that she always works with you. The process of creating a gown starts when you meet with her personally and discuss the details about your wedding gown inspiration.
ADVERTISEMENT - CONTINUE READING BELOW
Then after Czarina drafts her own masterpiece, she will make sure that you will not just approve, but rather fall in love with the gown. Then you will have your measurements taken, to make sure that the gown will fit you perfectly. Czarina's materials are from the best suppliers, because she wants the best for you.
CONTINUE READING BELOW
Recommended Videos
With an average of three to six months in making a piece, she makes sure that each gown mirrors your presence. After two or three fittings, you will finally be able to pick up your beautiful wedding gown, perfect for your style and character.
Czarina makes sure that she establishes a good rapport with you, as her client, because she believes that each gown that she makes has your personality embedded in it. For sure, when you book Czarina, she will create a beautiful gown custom made for your style and persona.

To inquire and see photos of Czarina Villa's works, click here.
ADVERTISEMENT - CONTINUE READING BELOW
Comments
Load More Stories