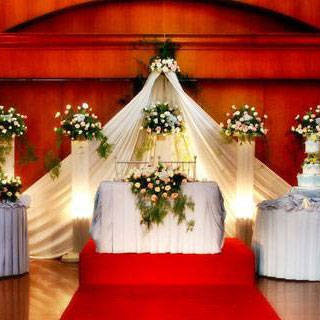 Your wedding reception is one of the major elements of your big day, and planning the celebration can be quite challenging. With the right suppliers, however, you can pull off a stress-free reception, as they will attend to all your needs. Among those suppliers is CVJ Food Catering.
Established in 1995, CVJ Food Catering has served various clients with different budgets and requirements. The company offers packages for special events like weddings, and such packages would allow you to serve sumptuous fare at an affordable price. You can choose from their wide range of international and Filipino dishes for your affair.
Also included in CVJ Food Catering's offerings is the table set-up for the reception. They can customize the décor according to your chosen motif, and they'll also spruce up your venue with floral arrangements, swags of fabric, and even balloons.

What sets CVJ Food Catering apart from other catering companies is that aside from providing the off-premise catering services and decorations, the company also presents clients with an events venue. The CVJ Clubhouse, located in Marikina, is a three-storey structure that can be dressed up for your wedding. Each floor can accommodate 250-300 guests.  
ADVERTISEMENT - CONTINUE READING BELOW
Planning your event will be so much easier with CVJ Food Catering, since you have to deal with just one supplier to provide you with your reception venue, food, and décor. With all your reception needs covered, you can enjoy a stress-free celebration.
To contact CVJ Food Catering and see photos of their set-up for receptions, click here.

Comments
Load More Stories