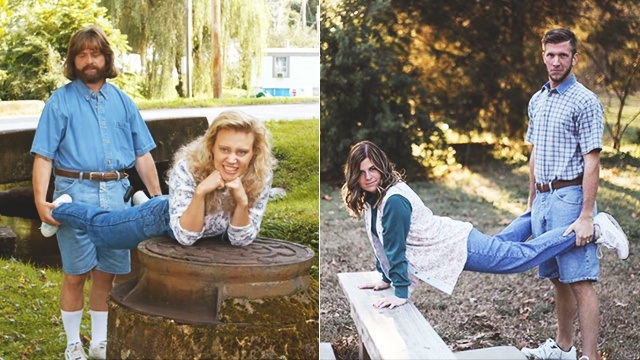 While there are some couples who choose elaborate and romantic themes for engagement photo shoots, this pair from Chattanooga, Tennessee opted to go for something out of the box.
Meet Caitlyn Campbell and Andrew Tucker, they met through a mutual friend in June of 2016 and it seems like they hit it off pretty well, since they're now engaged to be married just after seven months of dating. Tucker, 27 has his own car detailing business and is a certified life coach and NLP practitioner while 23-year old Campbell is still earning her bachelor's degree in physical education at the University of Tennessee.
"We were inspired to do this engagement shoot from the movie, Masterminds. We both absolutely love that movie and are huge fans of both Kate McKinnon and Zach Galifianakis! When we first watched the movie together we just knew we had to remake that engagement shoot one day," she tells People.
ADVERTISEMENT - CONTINUE READING BELOW
With the plan set, they contacted photographer Zoee Davis of Evergreen Film Co. to take their photos and when he was briefed of what was going to happen he was so excited. "Typically, couples come to me wanting cinematic/romantically-styled engagement photos, but Andrew and Caitlyn's idea spoke straight to my heart."
Other than that, Davis said that he had so much fun at the shoot. "We took some cues from the Masterminds posing, and then just started thinking of the most awkward things possible. By the time we left, our stomachs were hurting because we laughed so hard!"
That seemed like a fun engagement photo session, see the pictures in the video below:
If you want a prenup shoot that's far from ordinary, why not come up with a movie-inspired shoot yourselves or something that would show everyone how you and your beau are really like as a couple. It would also be a good idea to work with a photographer that has good chemistry with you guys, not only so you'll be comfortable at the shoot, but also for you to be sure that you're on the same page from planning to execution.
If you're not sure about what you want yet and you're not sold on having a traditional romantic shoot, you could try getting inspiration from something you enjoy doing together, like an athletic theme if there's a sport you two share, or maybe to make things more fun, you can invite your closest friends to have cameo appearances. Either way, make it a shoot everyone on set can enjoy—plus, it's your chance to bond and make memories with your man. 
Load More Stories