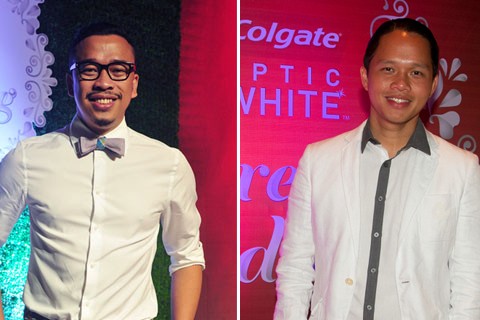 They say the best thing a bride can wear on her wedding day is a beautiful smile. But because most brides worry too much about everything that could possibly go wrong on her wedding day - from tripping while walking down the aisle or saying the wrong name during the exchange of vows - it can be quite a challenge to make sure that smile stays in place.
The worrying takes place not only on the wedding day, but also on the months, weeks and days leading up to it. And one of the biggest worries for brides is not being able to find the perfect wedding photographer and videographer to capture their special day.
When planning a wedding, most brides-to-be have famed visual storyteller Jason Magbanua and top wedding photographer Pat Dy on their wishlist. The two are among the most celebrated names in the world of weddings and their portfolio of clients read like the who's who of Manila Social scene.
ADVERTISEMENT - CONTINUE READING BELOW
Now, future brides can join the ranks of Manila's most beautiful by being part of Colgate Optic White's Dream Wedding contest. By uploading a short video of their absolute worst wedding worries on Colgate Philippines' Facebook page, one lucky bride will have the chance for her wedding to be captured through the eyes of Jason Magbanua and Pat Dy.
"There are certain key moments in a wedding: the unveiling of the bride, the opening of the door, the walk down the aisle, and the first kiss of the bride and groom," says Magbanua. "You have one chance to get it right. There's beauty in the moment, and there's beauty in the bride. The smile says it all."
"Your smile is a significant part of you. Not only does a white smile make you look good, it makes you and others feel good," says Dy. "I've taken hundreds of photographs, and it's really the perfect white smile that makes all the difference," he adds.
Seeing how a smile makes all the difference during the wedding, Colgate Optic White also gives you one less thing to worry about by taking care of your teeth and making it one shade whiter after just one week*.
A perfect smile and the perfect pair to immortalize it. Why worry? Visit Colgate Philippines' Facebook page instead to see how you can get a shot at winning the dream wedding duo of Jason Magbanua and Pat Dy.
Colgate Optic White's Dream Wedding entry submission is until October 2, 2014 and is open to all soon-to-wed Filipinos marrying in January until June 2015.
Watch the launch video for more about Colgate Optic White's Dream Wedding promo:

*When used as directed, for extrinsic stains.

Load More Stories