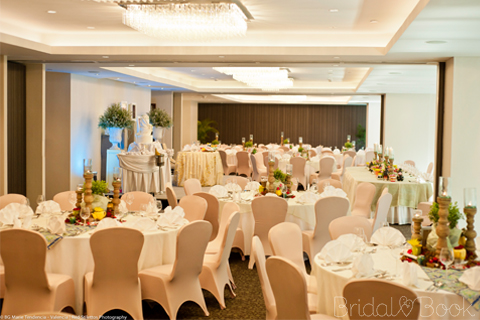 Apart from being an economical alternative to church weddings, civil weddings are widely popular amongst couples for it allows them to marry one another without any religious or racial prejudices to bind them. The intimate ceremony may be held in the municipal hall to be facilitated by the city mayor or a judge, or in a different location such as a resort, or the couple's own abode to be celebrated by a reverend.
Hotels are also a  popular destination for civil weddings. Not only do these high-rise establishments offer a cozy setting for such an intimate affair, but they also have amenities to accommodate different group sizes.
Marrying couples who are interested in having their civil wedding in a hotel may consider Oakwood Premier Joy~Nostalg Center Manila's event spaces. This world-class hotel has amenities and packages suitable for such intimate affairs. Included in their civil wedding package are floral arrangements, banquet services, venue styling, and use of function rooms. In addition, Oakwood's friendly and eager staff offer assistance to couples in securing their marriage license and scheduling a reverend for the service.

Depending on the size of the group, couples may get two separate rooms, one for the ceremony, and one for the reception. Each venue will be styled accordingly, with the couple's theme and motif in consideration.
Couples who want to have a beautiful and stress-free civil wedding may book any one of Oakwood's all-inclusive packages, which guarantees a memorable affair and a world-class experience no other hotel can satisfy.

ADVERTISEMENT - CONTINUE READING BELOW
Comments
Load More Stories