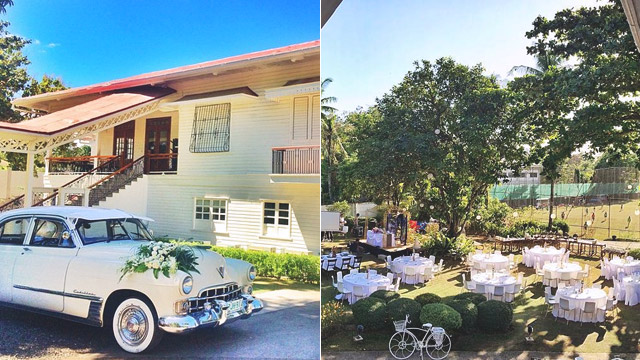 Cebu is known for its beautiful beaches and historical destinations. Home to the oldest city in the country, it doesn't come as a surprise that vestiges of the past are still very much part of the present—and one of these is Circa 1990, a compound of old houses once owned by some of the most prominent families in the province.
Within Circa 1900—wherein the likes of President Manuel L. Quezon and General Douglas MacArthur have walked—is Casa Uno, a residence-turned-restaurant that serves Filipino favorites with a twist. Known for its wonderfully airy rooms and its Filipiñana vibe, Casa Uno is also a famous wedding reception venue for both Filipinos and foreigners.
ADVERTISEMENT - CONTINUE READING BELOW
Heading Casa Uno's team is Chef Steve Shrimski and his wife Eya, who both oversee the restaurant's menu and the competencies of the staff.
Hands-on and meticulous, Chef Steve always has one ear in the dining room and another in the kitchen. Complements on the dishes are always met with an acknowledgment to the efforts of his entire team.
ADVERTISEMENT - CONTINUE READING BELOW
"[Menu development] is mine, but I don't get all these people saying, 'Chef, the food is great. Thank you very much. Thank you for cooking for me,' he shared during a recent interview. "I will pass it on to the staff. It's like, I may be here but all the guys at the back do the hard work. All the guys in the background that people don't see. They're the ones who work hard. So, it's not just like one person. It's a group effort, always."
ADVERTISEMENT - CONTINUE READING BELOW
One of the most interesting dishes that Chef Steve and his team developed is the Ube Ravioli. Eya explained how quickly the idea came about. "[Steve] was asked by a magazine to actually use, prepare…to submit a recipe using ube. He knew that some of the chefs were asked to do it as well. He was suspecting that they would all do something sweet, so he said he was going to do something savory and that started that.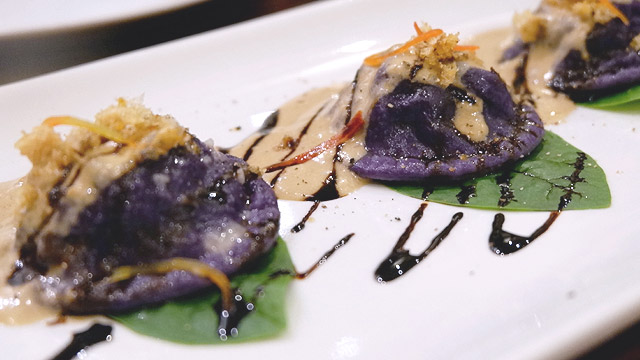 ADVERTISEMENT - CONTINUE READING BELOW
"Yeah, so it's like all these guys… said they did dessert, ube dessert and they did ube this and ube that and ube chips, and it's like 'What can we do that nobody else would do, that is something completely different,'" Chef Steve added. "So, we did [ube ravioli]. We experimented and played around, and now… it's on the menu."
The soft and smooth texture of the ube-based pasta breaks into the richness of its pork lechon filling soaked in creamy cocodobo sauce that's nothing short of sinful. It's no wonder that the dish is a best-seller.
"You know, it's not just like me, it's like I have an idea, we speak to the guys. It's like a group effort," the Chef would reiterate every so often. "We have like 30 other kitchen staff and we all work together."
Eya, who has years of working in Australia's hospitality industry under her belt, also highlighted the importance of not just treating the staff well, but also adding to their skillsets and teaching them the meaning of top-notch service.
ADVERTISEMENT - CONTINUE READING BELOW
"In the Philippines, we're very good with the smiles. That's always unlimited, [but] sometimes, the knowledge of what service truly is is actually an issue. So, I guess that's what we focus on. That service is not only friendly and warm, and sincere, but also knowledgeable," she added. "Having the hotel experience has really made the big difference because your attention to detail [has] been hammered since we're on the staff levels… That is important and being able to pass on those skills and be generous with it with our people is I guess the key."
And it shows—the impeccable service and artistic dishes are testaments to both Chef Steve and Eya's commitment to create more wonderful customer memories within Casa Uno's walls for years to come.
For more details on Casa Uno and Circa 1900, visit their website.
Load More Stories