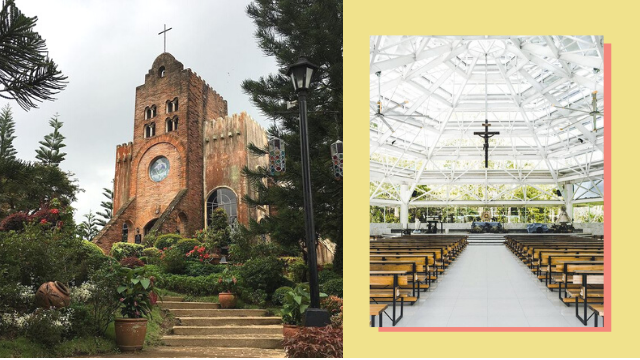 While a grand spectacle of 200-something guests may be a festive celebration, there is just something so romantic and dreamy about an intimate wedding, filled with an exclusive guest list of your closest friends and family members. Fortunately, there is no shortage of charming, picturesque chapels around the Philippines that suit a close-knit ceremony and a handful of guests present!
ADVERTISEMENT - CONTINUE READING BELOW
READ MORE ABOUT INTIMATE WEDDINGS 
CONTINUE READING BELOW
Recommended Videos
If you're considering downsizing your original wedding plans, here is a list of stunning churches and chapels that are perfect for an intimate wedding. Many of these are located around the country, surrounded by priceless views—also a great reason to explore the country's wonders with a tight-knit and personal group!
Caleruega Chapel of Transfiguration
Location: Brgy. Caylaway, Batulao, Nasugbu, Batangas 
This beautiful chapel on a hill in Nasugbu, Batangas remains to be one of the most popular wedding venues in the Philippines—it's a common occurrence for couples to book their dream date even two years in advance, so best to plan early! The Caleruega Chapel, also known as the Chapel of Transfiguration is well-loved by couples with good reason. Surrounded by lush greenery, the church's red brick and stained glass elements lend a dreamy and romantic atmosphere that's perfect for your big day.
ADVERTISEMENT - CONTINUE READING BELOW
Contact Caleruega at 0921- 270-9890 or 0921-830-4226. You can also e-mail them at caleruega_philippines@yahoo.com.
Montecito Chapel (Our Lady of Guadalupe)
Location: Montecito Village, Calamba, Laguna
Located in the sprawling lawns of Nuvali in Laguna, the Montecito Chapel is a gorgeous venue fitting for a bride and groom looking for a romantic wedding with a rustic touch. In beautiful, warm tones of red brick and yellow, the Mediterranean-inspired palette creates a memorable impression for a countryside affair. If you want your guests to stay close, the church also has a lovely outdoor garden where you can host a heartfelt outdoor reception.
ADVERTISEMENT - CONTINUE READING BELOW
Chapel on the Hill Tagaytay (Don Bosco Church)
Location: Don Bosco Batulao, Brgy. Cahil, Calaca, Batangas
Another well-loved ceremony venue is the gorgeous Chapel on the Hill in Tagaytay. Featuring a circular layout and a memorable wooden dome ceiling, the church's scenery consists of a 360-degree view of Tagaytay, as well as elegant, Filipino-inspired elements inside the church. Even with minimal styling, this chapel will surely be a beautiful setting for a solemn and personal ceremony.
ADVERTISEMENT - CONTINUE READING BELOW
For more details, contact the Mary Help of Christians House of Spirituality at (02) 404-4327 / 0917 524 7192. You can also e-mail them at batulaodonbosco@yahoo.com, chapelonthehill@yahoo.com, or visit them at donboscobatulao.org.
Parish of the Immaculate Heart of Mary
Location: Hinulugang Taktak Road, Antipolo City, Rizal 
A stone's throw away from the famed Hinulugang Taktak, this well-designed church is suited for couples who want an outdoor, nature-filled venue. Clad in a glass-and-steel dome, the parish boasts of a geometric dome shape, as a cross hangs from above—a visually arresting sight that can lend to a memorable affair. 
ADVERTISEMENT - CONTINUE READING BELOW
E-mail them at pihmantipolo@yahoo.com or visit their Facebook page. 
Lagen Island Chapel
Location: Lagen Island, El Nido, Palawan
The perfect venue for beach lovers, this chapel is hidden within the lush Lagen Island in El Nido, Palawan, surrounded by lush, tropical foliage and limestone. This extremely private location makes it the ideal ceremony location for the most exclusive and intimate of weddings!
ADVERTISEMENT - CONTINUE READING BELOW
Get in touch at holiday@elnidoresorts.com or visit elnidoresorts.com for more details.
Two Seasons Chapel (St. John the Baptist)
Location: Coron, Palawan
Here's another option if you want to get married in a tropical paradise: the Chapel of St. John the Baptist Chapel in the Two Seasons Resort in Coron is an intimate chapel where you and your loved one can get away and celebrate your love in the midst of only a handful of witnesses. Luxurious details such as polished wooden ceilings and tropical architecture make this chapel a perfect fit in the midst of the island resort. 
ADVERTISEMENT - CONTINUE READING BELOW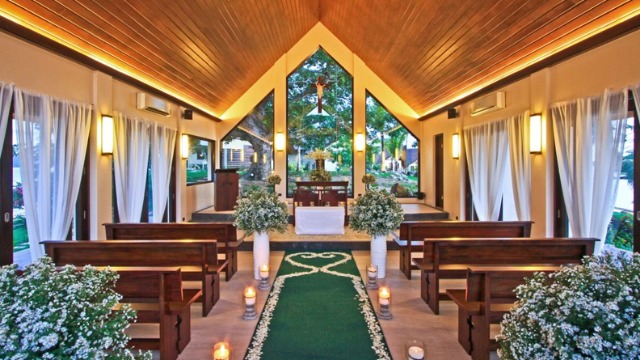 Contact the Two Seasons at +639175665811 or bliss@twoseasonsresorts. You can also visit twoseasonsresorts.com. 
Tukon Church (Mt. Carmel Chapel)
Location: Basco, Batanes 
Ever dreamed of getting married in Batanes? This intimate church in Basco is clad in stone walls and carved hardwood, taking inspiration from the traditional Ivatan houses. Batanes is the perfect escape for the most tight-knit and personal of weddings!
ADVERTISEMENT - CONTINUE READING BELOW
Prado Farms Chapel
Location: Lubao, Pampanga 
The Prado Farms Eco-Resort has a modern yet romantic chapel by the woods, perfect for the minimalist couple!
ADVERTISEMENT - CONTINUE READING BELOW
For more details, contact Prado Farms at http://pradofarms.com/experience/celebration/weddings.
READ MORE ABOUT INTIMATE WEDDINGS 
Archbishop's Palace
Location: Dionisio Jakosalem St., Cebu City, Cebu
Planning a romantic, elegant wedding? The Archbishop's Palace is an idyllic venue filled with stunning gardenscapes, charming, old-world decor, and an intimate chapel that fits a party of 50—perfect for the most personal of affairs. 
ADVERTISEMENT - CONTINUE READING BELOW
For more details, get in touch at (032) 253 3382.
Load More Stories