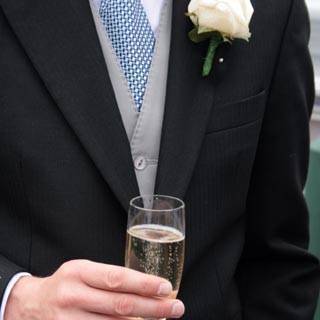 There's so much more to being a best man than calming down the groom's nerves when he gets cold feet (although that's also a huge part of the best man's role). We've prepared a list of responsibilities for your best man so he can play the hero on your big day.
ADVERTISEMENT - CONTINUE READING BELOW
CONTINUE READING BELOW
Recommended Videos
Common tasks of the best man before the wedding day:
Coordinate with other entourage members for wedding attire
You want your entourage to look dapper on the big day, and your best man should help you disseminate information about the appropriate wedding attire among the male members of the entourage. If you'll be hiring a tailor to make the entourage's suits or barongs, the best man can help coordinate with the other members to schedule fittings.
Call up guests and take note of guests' RSVP response
You and your groom will be busy attending to other wedding details, so your best man can be one of the contact persons for the guests' RSVP responses. If he's not too busy and he's willing to help, you can make him a point person and put his contact details on your invitation (with his consent, of course).
Advise guests on directions to the ceremony and reception venues, and prepare maps if needed
Not everyone is good with directions, and at least one guest will need extra help with getting to the ceremony and reception venue. Your best man can survey the area prior to the big day so that he can suggest routes to lost guests. If he's feeling extra helpful, he can prepare maps which you can give out with your invitations.
Organize a bachelor's party
The bachelor's party is a get-together for the groom and his friends, and your groom might be expect one. Your best man can be in charge of organizing the party with the help of the other entourage members.
Common tasks of the best man on the wedding day:
Pep-talk the groom when he gets nervous
Some grooms get cold feet on the big day (or on days leading to the big day) and it's the best man's duty to help the groom think clearly. Your best man can knock some sense into your groom if he's having second thoughts about walking down the aisle.
Hold on to your wedding rings
While you'll have a ring bearer on your wedding, it might not be a good idea to entrust your rings to a young member of the entourage before the ceremony. Ask your best man to keep the rings until the ring bearer is just about to walk down the aisle.
Check traffic situations for the bridal party and give last-minute directions to guests who are lost
You wouldn't want your bridal party to be stuck in traffic on your wedding day, so ask your best man to check traffic conditions. Ideally, he can also help out giving alternative routes so guests can avoid congested areas.
Sign your marriage contract as a witness if needed
Aside from assisting you with various wedding details, your best man can serve as one of your wedding's official witnesses. You can ask him to sign your contract.
Mingle with guests
Your best man can represent you and your groom in welcoming the guests. While you might be able to greet those who came to your wedding, you won't have enough time to converse with everyone. Your best man might be able to help you entertain guests.
Settle payments on your behalf
If your best man knows the agreement you have with your suppliers, he can settle the balance on your behalf. Give him a list of suppliers and copies of contracts (if needed), plus checks or cash for settling the balance--just make sure you can trust him with money.
You might also want to check:
Comments
Load More Stories