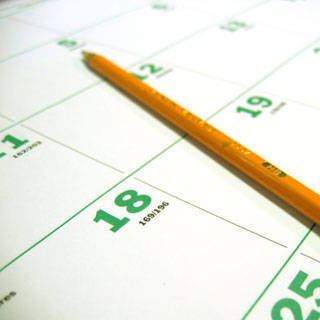 Your wedding will surely be a red-letter day, and most couples spend a lot of thought choosing their wedding date. Sometimes however, as some couples plan their wedding, unforeseen circumstances pop up--these events leave the couple with no choice but to move their event to a later or earlier date.
There are several possible causes for having to move the wedding date. The bride's pregnancy or an illness in the family can compel the couple to choose an earlier date. In some cases, relatives from abroad fly in for the wedding, and the couple chooses to move the date to accommodate these guests. Other couples put a lot of faith in their wedding suppliers, and in case their primary choices aren't available on their wedding date, they choose a date that's agreeable to both parties. Cold feet, Feng Shui, superstitions (like sukob) or a death in the family are also other reasons for the change in date.
ADVERTISEMENT - CONTINUE READING BELOW
In case you do decide to move your wedding date, below are some things you have to keep in mind:
You might have to change suppliers and venues.
If you're moving the wedding date for reasons other than to follow your supplier's schedule, there's a great possibility that you'll have to change at least one of your suppliers for the wedding. Check if the suppliers you initially chose are still available, and if they aren't, ask if they have recommended colleagues who might be able to help you out. In case you're choosing an earlier wedding date, do remember that you might have a smaller pool to choose from.
There's also a chance that the venues you booked won't be available on your new date. Reception and ceremony venues are booked about a year in advance, and unless you're moving the event to a year later (which will give you enough time to book a venue you like), start exploring alternative venues. You can check out unusual venues (like museums, parks, or building rooftops) so you have more options.
ADVERTISEMENT - CONTINUE READING BELOW
Recommended Videos
There's slim chance that they'll refund your deposits.
Most agreements with suppliers and venues stipulate that once you put a downpayment, you are confirming your booking--and they'll be rejecting bookings for other events on the date of your wedding. There are suppliers who are very considerate and will still agree to honor your booking on the new date--provided that they are still available. However, if they have other events lined up, you might have to say goodbye to your downpayment. Refunds aren't usually given for the simple reason that suppliers already blocked off your chosen date for you--and whether or not you push through with the event on that date, they could have already foregone another booking.
You might have to shell out extra for your wedding.
If your chosen suppliers won't be available on the new date, you'll have to find another set for your wedding--this means another batch of downpayments to confirm your bookings with the new suppliers. Plus, remember that the downpayment you issued to the first set of suppliers might be non-refundable.
ADVERTISEMENT - CONTINUE READING BELOW
Moving the wedding to an earlier date might mean having to pay extra for rush services like making your, wedding attire, souvenirs, cake, and invitations. When you do decide to change dates just days before the wedding, your suppliers might also charge you for perishables (ingredients for your meals, flowers), too.
You have to notify your guests immediately.

Your guests have probably set their schedules around your event, so as soon as you decide to move your wedding date, inform them immediately. In case your invites haven't been sent out yet, indicate the necessary changes or at least include a note about the change of date. But whether your guests have received the invites or not, you also have to inform them through phonecalls or emails--ask your friends and relatives to spread the word. Some guests might not react positively to the changes. There's also a chance that less guests would be available on your chosen date, since they could have made other plans for that day already.
ADVERTISEMENT - CONTINUE READING BELOW
For whatever reason you might have that you need to change your wedding date, trust that everything will work out for the best. The preparations might be extra challenging, but such hitches will only make you all the more ready to face married life together.
Load More Stories