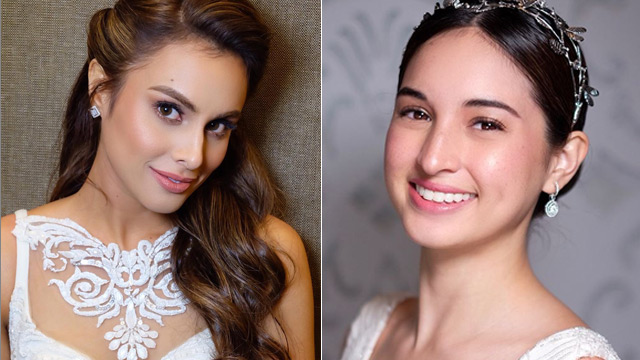 Ever wondered what it's like to be made up by a celebrity makeup artist? Your big day is the perfect chance for you to treat yourself to a glam session. Putting your bridal beauty in the hands of an expert will not only ensure you a flawless, detailed, and long-lasting look, but it'll also help you calm your pre-wedding jitters! After all, if you know you're in good hands, your makeup will be the least of your worries.
ADVERTISEMENT - CONTINUE READING BELOW
To help you choose the best makeup artist for you and to give you an idea of how much you'll need to shell out, we've interviewed a few celeb MUAs and asked them about their expertise, rates, and packages: 
CONTINUE READING BELOW
Recommended Videos
Jake Galvez
Bridal rate: P25,000 to P30,000
Contact: luxebridalbeauty@yahoo.com
If you want to look extra-glam yet still be effortlessly glowing on your big day, go for Jake.
Jake has a knack for creating sultry looks that highlight a woman's eyes. "The eyes are the first thing we usually look at, and so I love focusing on this feature," he says. "I play around with different smoky [looks]; I usually go for gold and bronze shades, whichever will compliment the bride's skin tone and eye color." It's no surprise celebs like Kim Chiu regularly turn to him for his expertise in bringing out chinita eyes. 
His rate includes hairstyling, which is a total bonus. If you want a sulit package, you can also get him to help freshen up your groom. Take note, though, that retouches have additional charges. For unlimited retouches—both for you and your husband-to-be—there's an additional fee of P15,000.
ADVERTISEMENT - CONTINUE READING BELOW
ADVERTISEMENT - CONTINUE READING BELOW
ADVERTISEMENT - CONTINUE READING BELOW
Pong Niu
Bridal rate: P35,000 to P40,000
Contact: razelbniu@yahoo.com
If barely-there makeup à la Meghan Markle is what you're after, block out a date in Pong's schedule. She's the makeup goddess behind Coleen Garcia's refreshing no-makeup makeup look for her Bali wedding.
Pong explains that her signature technique is to "…make it a point to make the eyes of any client defined but natural, and that the brows always complement the look." This subtlety allows her brides to look gorgeous without looking too made up.
Prepare to shell out P35,000 if you want to be glammed up by Pong. This rate already includes hairstyling. Retouching and a second look are also included, but will be done by her assistant. Pong uses traditional makeup; airbrush makeup rings in an additional P2,500.
ADVERTISEMENT - CONTINUE READING BELOW
ADVERTISEMENT - CONTINUE READING BELOW
Rick Calderon
Bridal rate: P45,000 to P60,000
Contact: rickcalderon_16@yahoo.com.ph 
Whether you're after soft, glowing, "fresh lang" makeup for the ceremony or you want to switch to a more dramatic evening look for the reception, Rick has the skills to do both, even while keeping "the skin looking natural." In fact, his expertise is creating a "flawless and traceless" finish, especially when it comes to foundation application. 
ADVERTISEMENT - CONTINUE READING BELOW
Rick has beautified numerous celebs, including Mariel Padilla, Kylie Verzosa, Lovi Poe, Kris Bernal, and more, and he's also the makeup artist behind Max Collin's sultry bridal look in 2017. 
Aside from your makeup for the ceremony, Rick's rate also includes a retouch and second look for the reception. 
ADVERTISEMENT - CONTINUE READING BELOW
ADVERTISEMENT - CONTINUE READING BELOW
Jason Delos Reyes
Bridal rate: P40,000 to P45,000
Contact: jxondelosreyes@gmail.com
Got a naturally tanned skin? Jason can whip up a bronzed glam look that will accentuate your warm glow—morena beauties like Gabbi Garcia, Winwyn Marquez, Klea Pineda, and Lovi Poe are just a few of his clients.
Jason keeps it a point to make sure that the look he creates is tailored to the bride's "skin type, face shape, and personality." In fact, he's also particularly skilled in "working with hooded and monolid eyes." Scroll through his Instagram account and you'll easily notice how well he opens up Gabbi Garcia's peepers.
His packages are incredibly budget-friendly: for P40,000, you can get both your hair and makeup done by Jason, as well as have a grooming session for your man. The best part is he'll also switch up your look for the reception for free. His other package, which costs P45,000, includes the same services but with an additional makeup service for two heads using traditional makeup.
ADVERTISEMENT - CONTINUE READING BELOW
ADVERTISEMENT - CONTINUE READING BELOW
ADVERTISEMENT - CONTINUE READING BELOW
Katch Mejias
Bridal rate: P30,000 to P50,000
Contact: katchmejias@gmail.com  
The weeks leading up to the big day can be stressful both mentally and physically, but leave it to this expert to bring back your glow. Katch usually creates looks that are soft, rosy, and ethereal. 
She strictly accepts one wedding per day so she can fully attend to each of her bride's needs. "My bridal makeup style is very refined and defined. I like defining my brides' eyes and finishing it off with a glowing aura." She usually works on beauty editorials so you can be sure that you'll be one photogenic bride as you walk down the aisle!
ADVERTISEMENT - CONTINUE READING BELOW
ADVERTISEMENT - CONTINUE READING BELOW
ADVERTISEMENT - CONTINUE READING BELOW
Aside from getting the best of the best to help you with your bridal makeup, you also need to do your part by prepping your skin long before your big day. Here are a couple of things you can do to help even out your complexion:
1. Schedule a visit with your dermatologist.  
Although makeup artists will normally prep your skin before applying makeup, Jason Delos Reyes suggests brides to "do a facial cleaning two weeks before the wedding and to drink lots of water." A healthy, well-hydrated base is key to a flawless, natural-looking finish. Consider this an excuse to take a break from the stressful wedding planning! 
2. Consider taking a collagen drink.
For those who do not have the luxury of time to visit the derma, Katch Mejias recommends to simply get enough sleep. She adds: "Drinking collagen drinks also really works! But above all, the secret to having that bridal glow is setting your worries aside and just smile."
ADVERTISEMENT - CONTINUE READING BELOW
Comments
Load More Stories