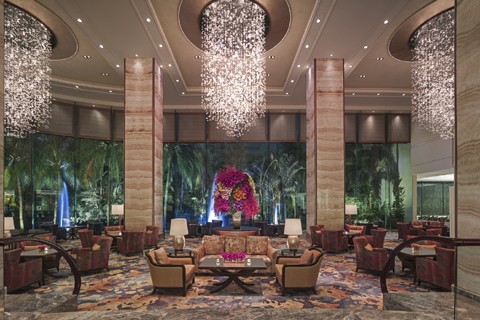 When planning a wedding, the reception venue is one of the top priorities of marrying couples because it should provide an unforgettable experience for a celebration of love.
Edsa Shangri-la, Manila offers an exquisite place perfect for the day you say "I do". This premium hotel boasts luxurious amenities befitting both small and grand occasions. Just recently, the hotel's facilities such as the Tower Wing Suites, the Lobby Lounge and the lagoon-shaped swimming pool have been upgraded for your romantic affair.
Edsa Shangri-La, Manila provides highly reputable world-class services to make your wedding a momentous occasion. Each of its newly renovated spaces is uniquely fit for a memorable experience on your wedding day.
Upon entering the Lobby Lounge, the stunning trio of opulent Sampaguita crystal chandeliers will welcome you and your guests to provide a soothing vibe for your big day. As you relax at the comfortable area, you will be mesmerized by the special artwork created by famous Filipino painter Ricky Isidro, which hangs above the Lobby Lounge. The area promises an ethereal atmosphere for you and your loved ones to enjoy.
The Tower Wing Suite presents cozy interiors for a comfy stay, ample space for grooming, and sophisticated features for wedding portraits. The modern Filipino aesthetic is evident in the suite's design because it infuses the space with touches of mother of Pearl, Anahaw leaf print patterns and fine local wood.
As you prepare for your wedding ceremony, you can lounge at the hotel's newly renovated pool area. The pool and its surrounding areas were modernized to achieve a romantic tropical feel. An aqua play facility complete with rubberized flooring, water cannons, fountains and slides, were also constructed specially for you and your entourage to enjoy.
ADVERTISEMENT - CONTINUE READING BELOW
Patrick Schaub, Edsa Shangri-La, Manila's General Manager says, "We at Edsa Shangri-La, Manila are strongly committed to providing our guests with not only the brand of genuine and heartfelt hospitality that we've successfully been known for the last 20 years, but also to provide the best in guest rooms, amenities and facilities."
Overall, Edsa Shangri-La, Manila remains the premier wedding destination for marrying couples because of its splendid amenities and distinguished services.
Comments
Load More Stories