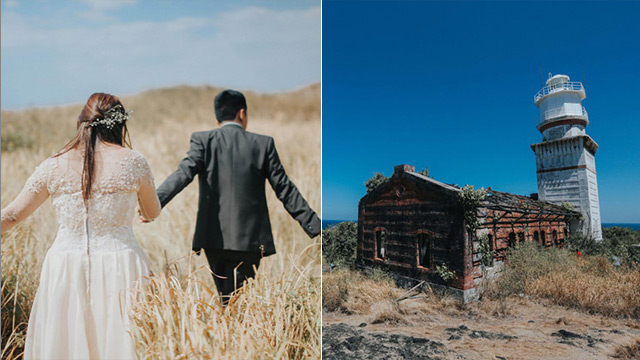 Before the penultimate walk down the aisle, the long-awaited "I dos," and the grand reception, there's the prenup shoot. It's the official engagement announcement, the initial step into showing the whole world that you're committing to a lifetime together, via well-shot romantic photos. Of course, necessary to getting those gorgeous shots is an equally gorgeous location to shoot in, and preferably one that's wallet-friendly because you'd want to save a good amount of your wedding fund for the actual day.
ADVERTISEMENT - CONTINUE READING BELOW
That being said, if you're still stumped for a prenup location that suits all the above-mentioned requirements, why not try the bone-shaped, windy Island of Capones? Just a boat ride away from Barangay Pundaquit, San Antonio, this virtually deserted island is a treasure trove of Zambales.
CONTINUE READING BELOW
Recommended Videos
Having staged a shoot on the island more than once, wedding photographer Peter del Rosario of Lights and Flair can attest to its raw, virgin beauty. "Capones is alluring and a wild beauty. We have been there for a photoshoot more than once, but every time is a stunning experience on its own," Peter tells Preview. "Shooting there is like getting lost and discovering the natural, mesmerizing island over and over again but never seeing the same side twice. Yes, everywhere in Capones is picture-perfect, but we believe it's the natural flair of the couple that adds beauty in any place. It gives out a different vibe, a different charm, and an extraordinary feel to any photo."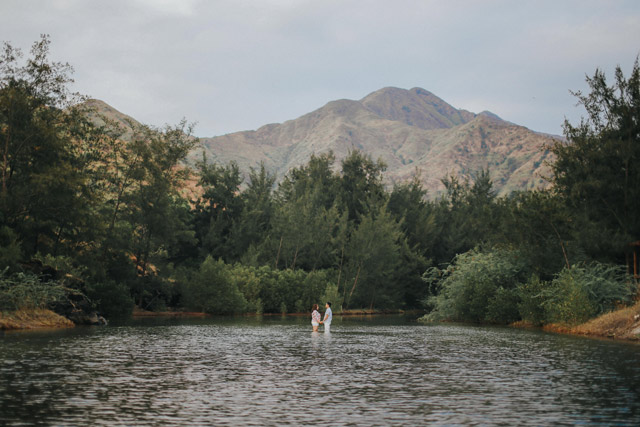 ADVERTISEMENT - CONTINUE READING BELOW
Boasting of white sand, a rocky shoreline for grittier photo ops, and a dilapidated abandoned building, all free to the public, the island is especially perfect if you're aiming for a rustic seaside themed prenup. There's also a distinct white Spanish-era lighthouse that adds to its rural navy aesthetic. Unfortunately, climbing the top of the lighthouse is now off-limits, so just make sure you don't have any rooftop shots slanted for your album.
But fret not, because you've got something better sitting just a short hike from the shoreline. Fascinating of all are the cogon grasslands right on the island's cliff; the place turns into a mesmerizing shade of gold under the sun. This, contrasted with the ocean's striking blue waves, is the perfect scenic setup for your pre-wedding memorabilia.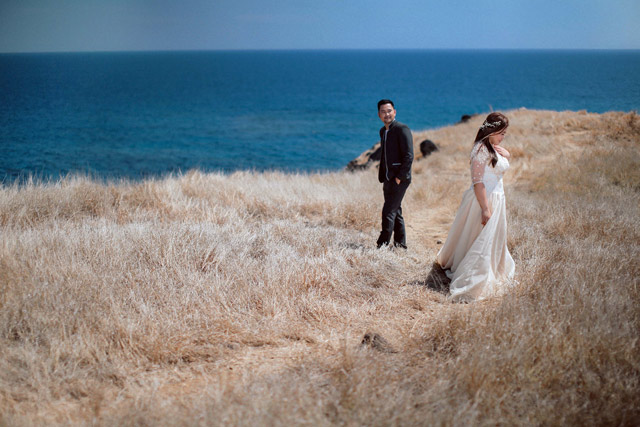 ADVERTISEMENT - CONTINUE READING BELOW
How to get there?
1. If you don't have a private car, you can take a Victory Liner bus bound for either Iba or Sta. Cruz, Zambales. This will usually take you three to four hours.
2. Alight at the San Antonio bus stop and take a tricycle to Brgy. Pundaquit for about 20 minutes.
3. From here, you can hire a boat that will take you to Capones Island. Rates start from P1m,000 to P2,500 depending on how big your group is.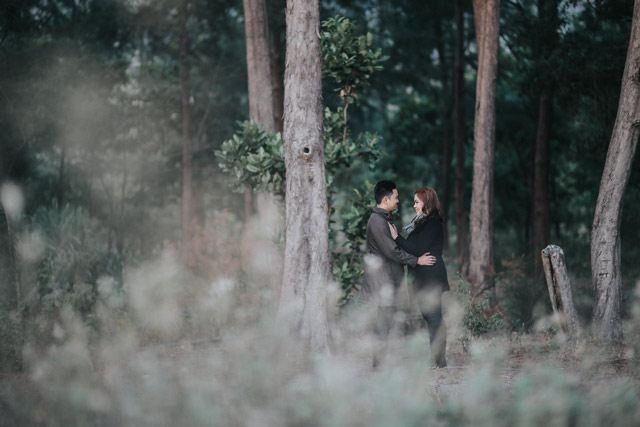 ADVERTISEMENT - CONTINUE READING BELOW
Where to stay?
It's important to note that there are no commercial establishments in Capones, making staying there a purely camping-based experience. In shooting your prenup, take a day trip to the island instead and book a room in one of the many resorts in San Antonio.
A notable lodging is the Capones Vista Beach Resort located just off the beach of Pundaquit with rates ranging from P3,800 to P12,000 depending on how big your group is and the type of room you're interested in booking.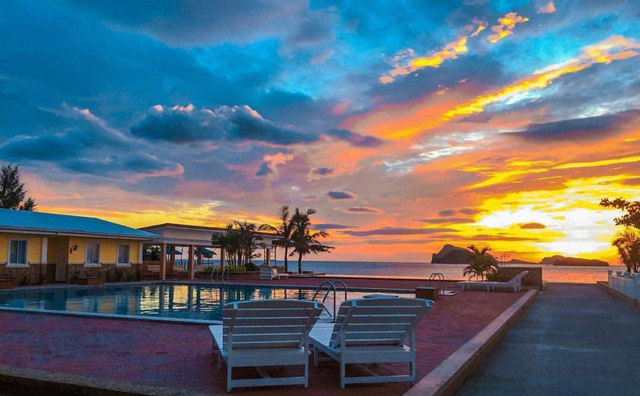 ADVERTISEMENT - CONTINUE READING BELOW
You may also stay in a few hostels and resorts like Lalyn's Home, Wild Rose Beach Inn, and Sir Williams Lodge & Beach Resort, among others.
A few things to remember:
Before you dive head-first into a full-on prenup production on the island, it's important to note a few things to ensure the best and safest experience. Read up on a few non-negotiable reminders below, with some advice even coming from Peter's first-hand accounts during his multiple shoots in Capones.
1. Plan your shoot during the dry season.
When scheduling your prenup, it's safest to visit Capones Island on the dry seasons (March to May) since your only available mode of transportation is via boat. The island is notorious for its raging waves, especially during the rainy months.
2. Bring appropriate footwear.
The golden grassland view may be gorgeous on photos, but to get those IG-worthy shots, you'll need to climb up a cliff first. To keep from any blisters or other untoward incidents, make sure you bring along shoes conducive for hiking before you change into your heels.
ADVERTISEMENT - CONTINUE READING BELOW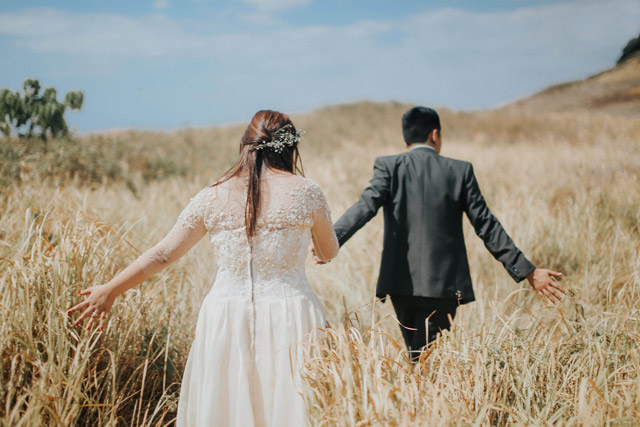 3. For photographers, be ready to to do some heavy lifting.
Again, the trip to the island can be quite the rocky boat ride depending on the sea's condition. In lieu of this, for the photographer, make sure your gear is secure and protected! "We were taken there by a boat which our clients hired and pre-arranged. On our way, we were welcomed by strong currents and big waves, which according to our boatman is usual and expected, thus the need of a life vest," Peter recalls. "The boat can't actually sail up until the end of the shore so we need to walk our way from a waist-high level water, carrying our equipment on top of our heads to secure it. Good thing we were ready and safeguarded everything on dry, waterproof cases."
ADVERTISEMENT - CONTINUE READING BELOW
4. Sunblock is your best friend!
Visiting the island during dry season to ensure a safe trip also means bracing for the sweltering heat of summer. Peter's advice? "Bathe in sunblock. Expect that you'll be showered with so much sunshine in there. Bring lots of water to keep [yourself] hydrated and food as well to keep everyone happy. And above all, enjoy your time for real and make memories. And let us do what we do best—capture your moments and let your story unfold into a photograph."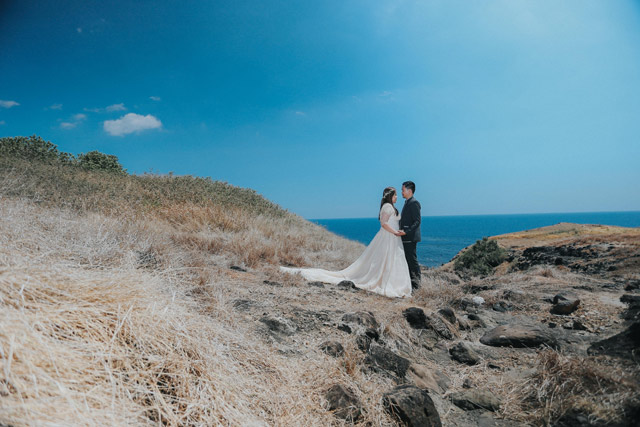 ADVERTISEMENT - CONTINUE READING BELOW
5. Remember the golden hour.
When asked for the ideal time to capture the best photos on the island, Peter reiterated the importance of the golden hour. "That would be the time after sunrise up until 10 a.m. Or from 4 p.m. onwards, the hours preceding sunset," he says. "During which, the sunlight is properly diffused, warm and softer, to achieve that sunkissed-colored photographs and to create that coveted Sun Flare that we always want."
6. Eat a full meal before leaving.
This is esepcially true for photographers who should expect to be carrying their equipment a lot! "Have a hearty breakfast," Peter recommends. "You will be needing all the energy carrying your gears on top of your head when the situation calls for it. Also, secure everything in dry cases. Most importantly, enjoy what you do and enjoy the beauty of the island. Because when you're happy and enjoying, your eyes get a little bigger for things that [are] beautiful and your mind gets brighter for new ideas."
ADVERTISEMENT - CONTINUE READING BELOW
*Photos from Geoffrey and Gelome Nabong's prenup shoot, courtesy of Lights and Flair.
This story originally appeared on Preview.ph.
* Minor edits have been made by the Femalenetwork.com editors.
Load More Stories