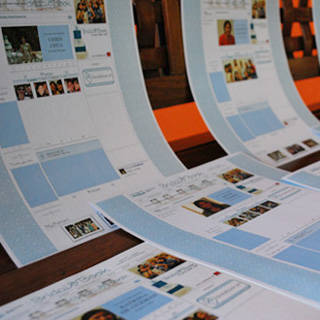 Last week, the BridalBook team headed to chilly (or during our visit, rainy) Antipolo for our team building and planning session. It was a great opportunity for us to relax, and also to brainstorm for site improvements. 

Before we could visualize new plans for BridalBook.ph, we looked back on the site's milestones since we launched in May 2010. We all gave ourselves a pat on the back as we remembered our nomination at the Philippine Web Awards, our first million in monthly page views (as I write this, we're now up to two million page views per month), our first anniversary event, and other blessings that we've received in the past year. All these milestones were even more fun because we were able to interact with various wedding suppliers and readers who've all helped us with the site.
ADVERTISEMENT - CONTINUE READING BELOW
CONTINUE READING BELOW
Recommended Videos

To keep everyone's energy up, we had games in between programs. Among those we played was Pinoy Henyo--of course, we couldn't resist having a wedding-themed one. We took turns guessing wedding terms, site sections, and even names of local suppliers!
ADVERTISEMENT - CONTINUE READING BELOW

My personal favorite was our Project Runway-inspired challenge. We were divided into teams, and had to dress a team member in a bridal gown made entirely of tissue paper. (Our team won, haha. Iko and I dressed up Mother Aissa in a mermaid-cut gown with a sweetheart neckline--a favorite among brides!)
ADVERTISEMENT - CONTINUE READING BELOW

During our stay at Casa Ibiza, we got to know the site's strengths and the areas for improvement. Those allowed us to envision a better site for brides and suppliers. We have so many ideas for BridalBook.ph, and we can't wait to execute them!
ADVERTISEMENT - CONTINUE READING BELOW

We all committed to working on a better BridalBook.ph, and one of the initiatives will be announced tomorrow. We're excited!
ADVERTISEMENT - CONTINUE READING BELOW

Keep visiting BridalBook.ph to see the improvements unfold. :)
--Kristy
gloweddinglow! :D
Comments
Load More Stories