So you've asked all your besties to be your bridesmaids and maid of honor. These ladies are going to be doing a lot for you in the weeks leading up to the wedding and on your big day itself. The least you can do is give them a dress they would love to get photographed in, and god-willing, wear again. 
ADVERTISEMENT - CONTINUE READING BELOW
Well, what do you put them in? Here is a quick guide to the different fabrics that you might explore when you go shopping or when you talk to your couturier. There's a lot to consider, but we'll try to break it down according to how formal your event is, then discuss other factors such as the silhouette you want to achieve and how that might look on your friends' figures.
CONTINUE READING BELOW
Recommended Videos
For casual, outdoor, daytime weddings
If your reception isn't going to have air conditioning, I exhort you to keep it lightweight. No one wants to fuss in the heat, so give your girl gang a break.
Linen
The classic kusot-mayaman is a boon for beach weddings. It looks sleek in simple, close-fitting shapes—but beware of the sit lines that will appear on everyone's laps. If that bothers you, opt for a roomy skirt.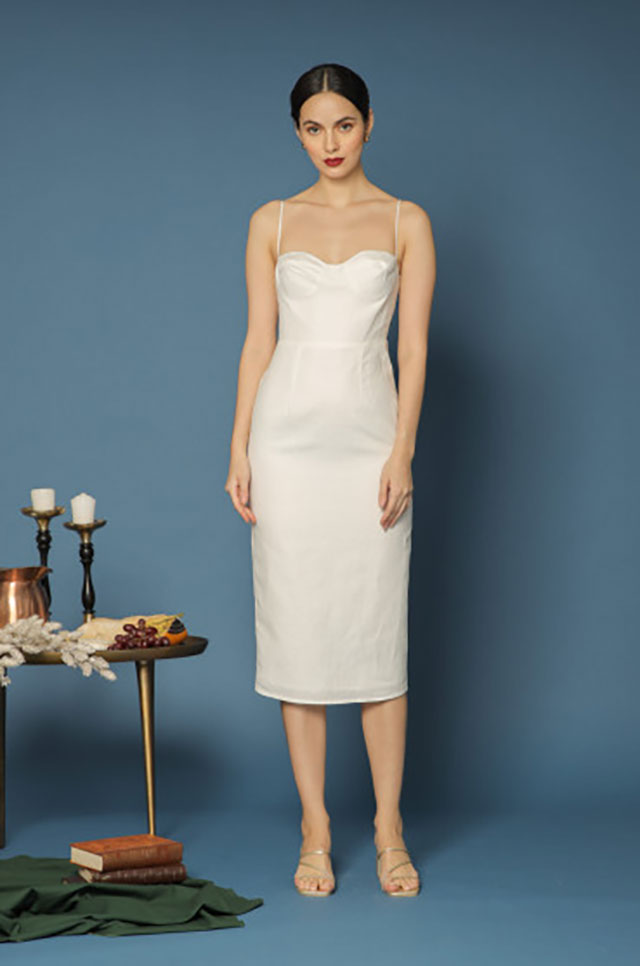 ADVERTISEMENT - CONTINUE READING BELOW
TRY: Zoo Chiquita Sweetheart Midi Dress with Thin Straps (White Linen), P2,690.00, available online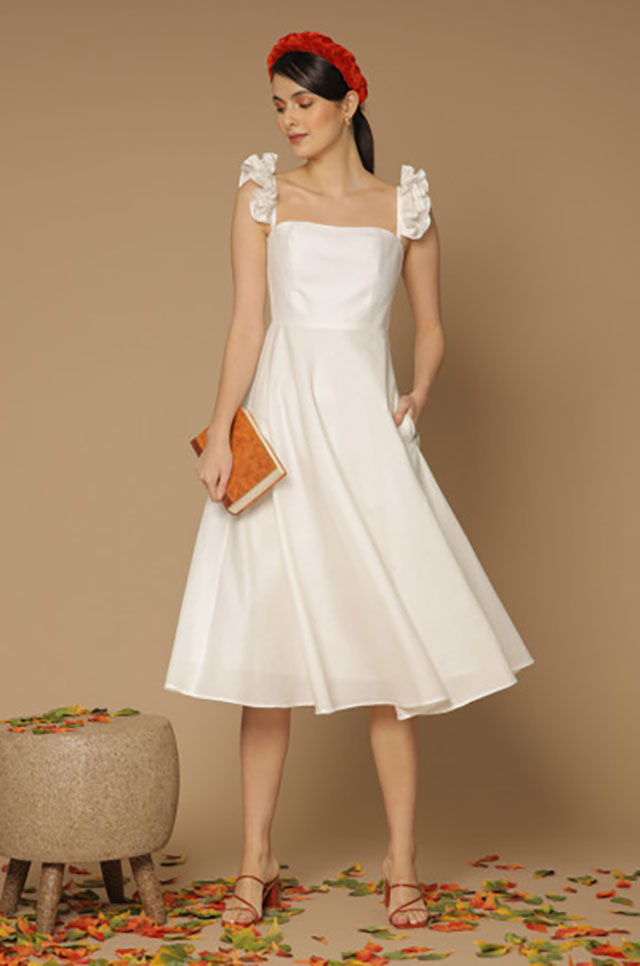 TRY: Zoo ALONDRA Semi Sweetheart Ruffle Sleeve Midi Dress with Pockets (White Linen), P2,690, available online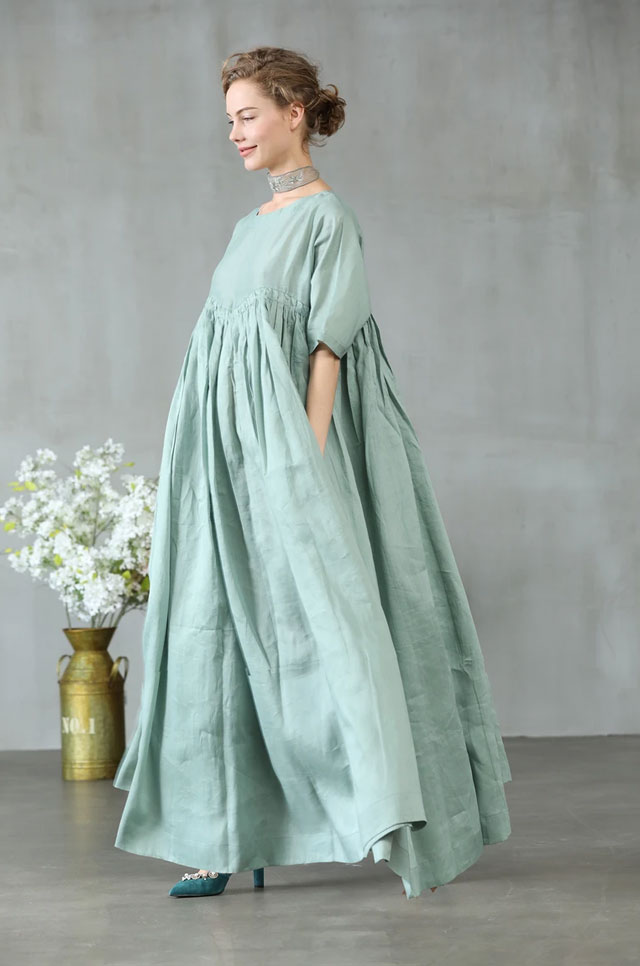 ADVERTISEMENT - CONTINUE READING BELOW
TRY: Linennaive Maxi Linen Wedding Dress, P6,499.99, available online
Eyelet
Thanks to built-in embroidery, this textile is perfect for a feminine look. Eyelet delivers whether you want a folksy, bohemian feel (go for a maxi length) or an angelic, preppy vibe (midi works best). Weights vary—thicker versions will be crisp and hold shape nicely.
Cotton poplin
This is the golden standard for day dresses. It's thick enough to hold a shape (think midi A-lines) and doesn't always need lining. The lustrous surface gives it a polished effect whether you choose a light or dark color, solid or printed.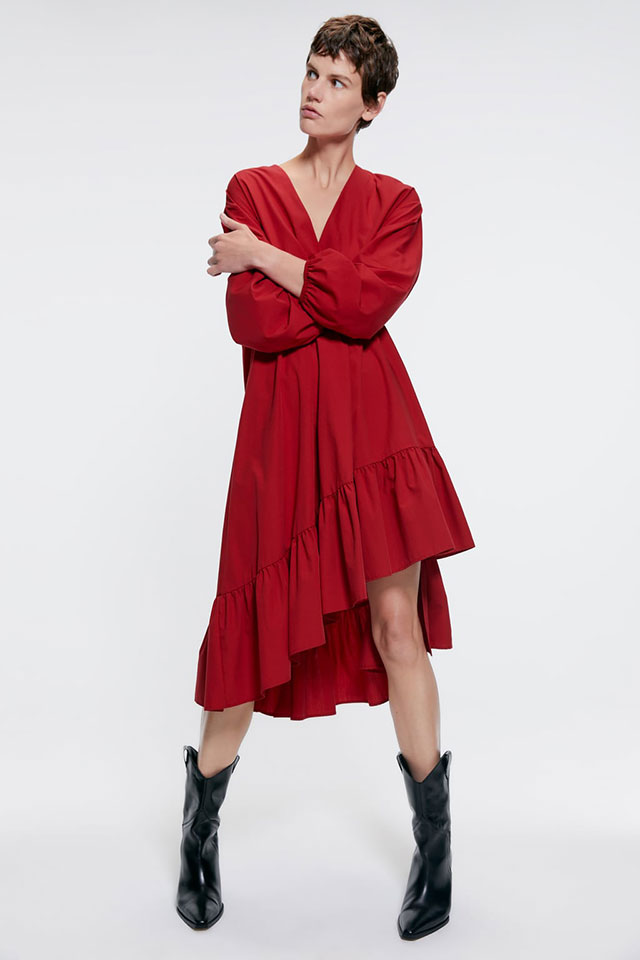 ADVERTISEMENT - CONTINUE READING BELOW
TRY: Zara Poplin Midi Dress, P3,295, available online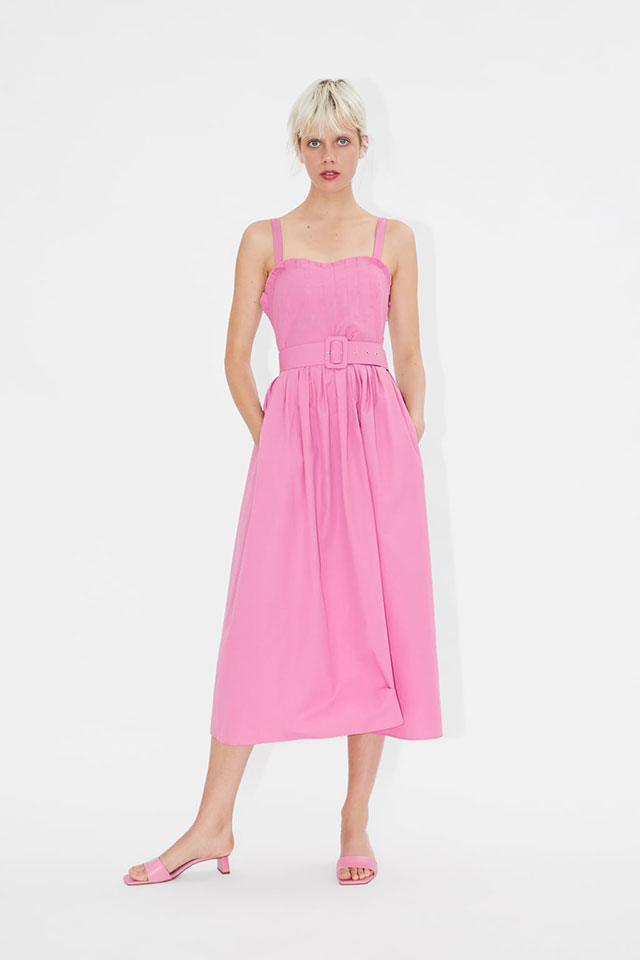 TRY: Zara Poplin Dress With Belt, P2,495, available online
For in-between
These options are versatile enough to straddle the attire spectrum, depending on how dramatic the cut or how much embellishment is added.
Chiffon
Ever the default for flowy silhouettes, it may be tempting to buy cheap chiffon in bulk from the lowest bidder in Divisoria; but the problem with synthetic, less expensive variants is that they're not as soft as they should be and they don't breathe, leaving the wearer a sweaty mess. Despite its ubiquity, chiffon is really a high-stakes fabric that requires a skilled couturier. If that's not within the budget, go shopping for an RTW dress instead.
ADVERTISEMENT - CONTINUE READING BELOW
Georgette
Here's an unsung hero—neither as sheer nor soft as chiffon, but has lots of character on its matte, crinkly surface. It looks really good printed with florals at different scales, especially in rich, deep hues. You're very likely to find good choices in autumn and winter collections.
Guipure lace
This lace isn't too dainty so it can seem relaxed when unadorned. Hunt for a geometric pattern if you want something more contemporary, but florals are timeless and can be gussied up with beadwork or even layered as 3D appliques.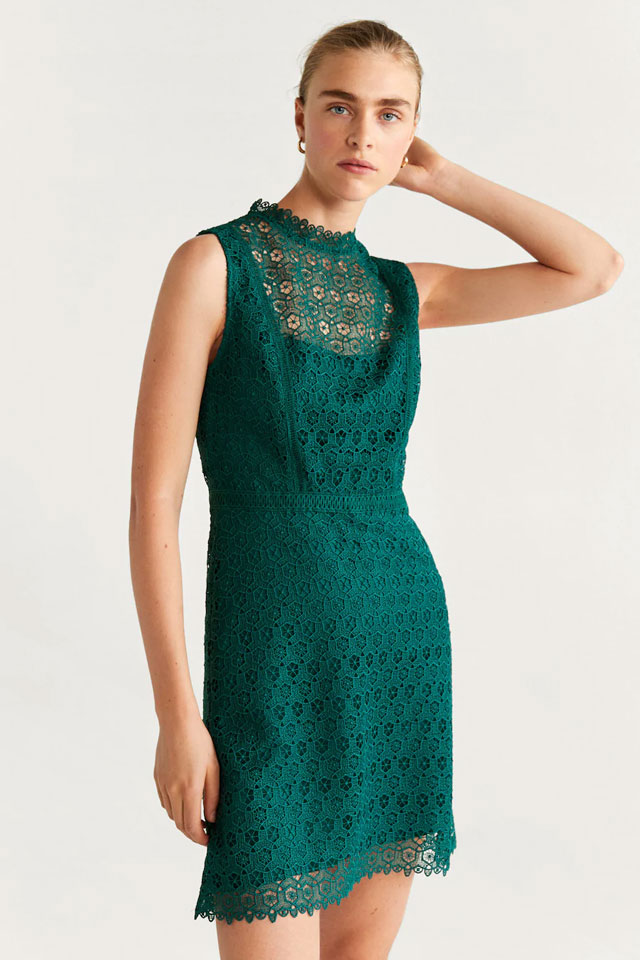 ADVERTISEMENT - CONTINUE READING BELOW
TRY: Mango Guipure Dress, P1,995, available online
Power mesh
This knit has virtually replaced soft tulle when drape is preferred over stiffness. It looks amazing when ruched and doesn't even need to be hemmed! No wonder it is a staple of designers like Paolo Blanco. One drawback is that the fabric lengthens when the edge is stepped on often–so ask your bridesmaids to choose their shoes early and bring them to the fitting!
ADVERTISEMENT - CONTINUE READING BELOW
Nylon or rayon jersey
This modern essential has a nice sheen, flatters any figure and hardly wrinkles. It's a supremely practical choice if your wedding involves a lot of traveling—your girls won't worry too much about packing. Beyond infinity dresses that flare below the waist, consider a full-length trapeze as your update for the incoming decade.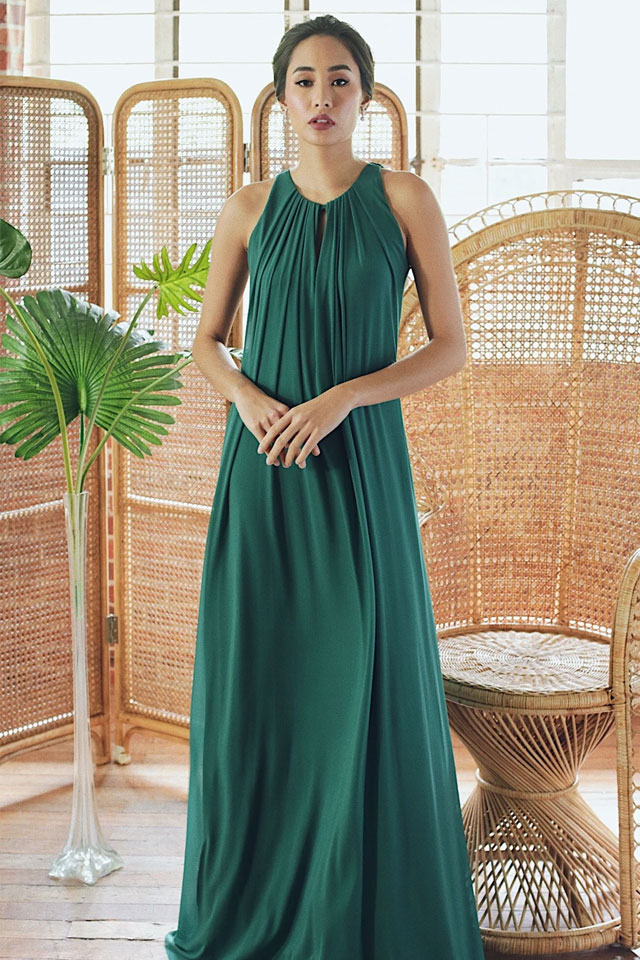 ADVERTISEMENT - CONTINUE READING BELOW
TRY: Tantease Abi, P5,950, available online
Neoprene 
Yes, what was once used only for wetsuits can now be found in occasion clothing. Without the rubber insulation, scuba knits that are less than 1.5mm thick are wondrous options for bodycon designs. The structured textile also lends itself well to tulip-shaped skirts or cocoon dresses.
ADVERTISEMENT - CONTINUE READING BELOW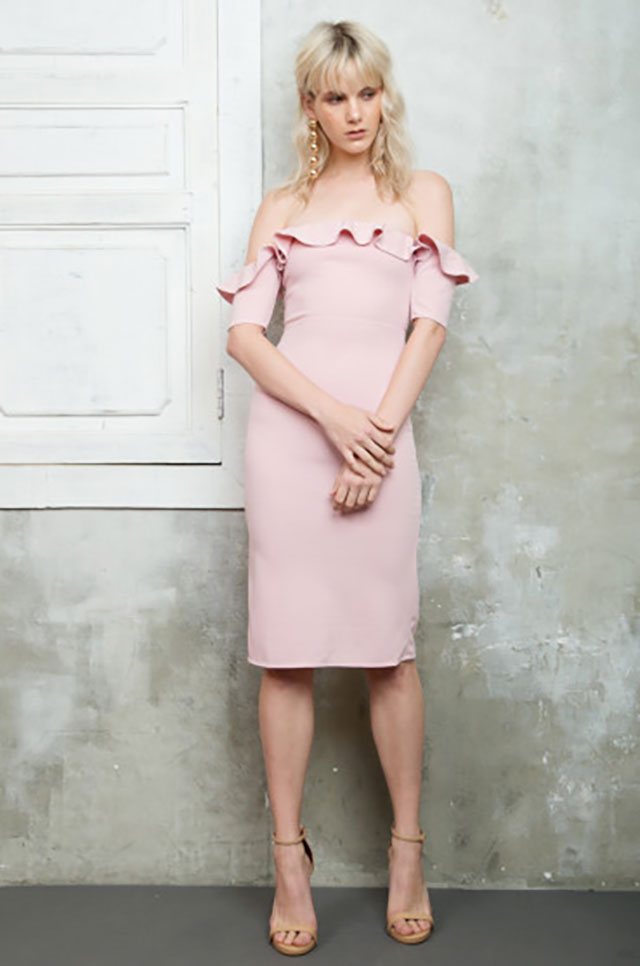 ADVERTISEMENT - CONTINUE READING BELOW
Crepe
Now, this is the Goldilocks of fabrics—matte enough to not steal the show, heavy enough to drape, thick enough to not require lining. In solid, jewel tones, it's the perfect medium to let the silhouette (and its wearer) sing.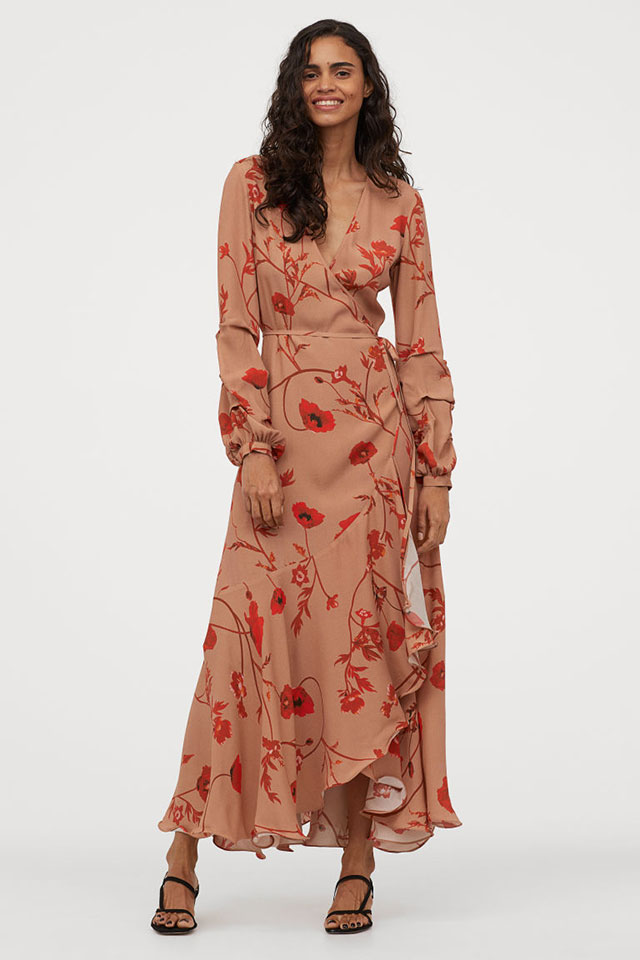 TRY: H&M Crepe Wrap Dress, P2,690, available online
ADVERTISEMENT - CONTINUE READING BELOW
For formal, evening weddings
If you're going for an extravagant event, an allover luster or pattern will elevate the look of your entourage.
Brocade/jacquard
There's something opulent about having decorative texture woven across the whole material. For a muted effect, go for tone-on-tone patterns. Alternatively, a double-face jacquard with contrasting colors will let you play with both sides of the fabric and open more possibilities for unique but coordinated garments among your bridesmaids. Bonus tip: you might stumble upon your dream fabric in the home textiles section, originally intended for sofas and curtains.
ADVERTISEMENT - CONTINUE READING BELOW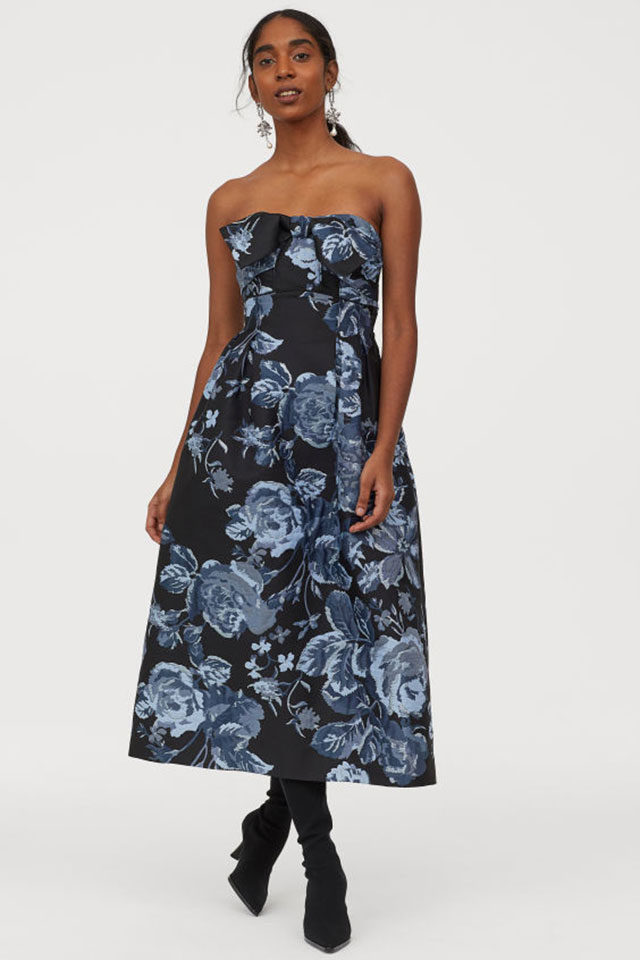 TRY: H&M Brocade Dress, P9,990, available online
ADVERTISEMENT - CONTINUE READING BELOW
TRY: Zara Voluminous Jacquard Dress, P3,295, available online
Dupioni, shantung, and gazar
These types of silk are crisp and can hold a shape. The first two are slubby (read: sossy himulmol) while the last is smooth—it's actually four-ply organza, after all. These are suitably deluxe options for the bride who wants her bridesmaids to share her princess moment but don't want to be upstaged.
ADVERTISEMENT - CONTINUE READING BELOW
The no-go zone 
Stay away from these textiles where a lot could easily go wrong.
Satin
The high shine of regular satin is very unforgiving. The wrinkles are also a nightmare and will not withstand any amount of sitting. It's hard to sew and will pucker at the slightest mistake of your seamstress.
ADVERTISEMENT - CONTINUE READING BELOW
Velvet
The fuzz can either look incredibly seductive or make for too much bulk. It can also appear terribly dated (hello, 80s and 90s).
Finally, a word on prints: always aim for some variety among your bridesmaids. Try to experiment with scale—large and small florals are low-risk bets. A more daring choice is to make it thematic; for example, pastel stripes, dots, and checks would look charming if your wedding has a picnic motif.
Load More Stories