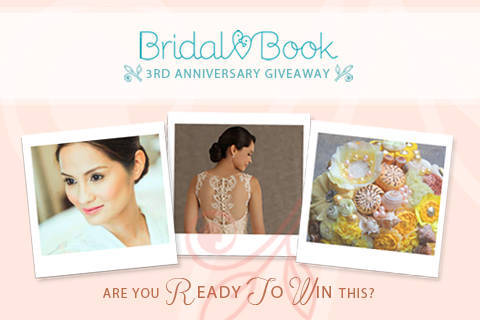 They say good things come in threes. We can't help but agree. 
To thank our brides for their support, we've put together three beautiful wedding giveaways - a dreamy wedding gown by Veluz RTW, a bridal makeup package from The Makeup Studio by Madge, and a hand-crafted bridal bouquet by Gideon Hermosa of Events Studio.
You don't have to imagine what this stunning combination will look like. You can create your own moodboard and see for yourself! Is your style of wedding gown romantic or sophisticated? Are you going for a natural or bold bridal look? Do you want a lush floral bouquet or a whimsical arrangement of paper flowers? Put together your bridal look and share your moodboard. Who knows? You could be the lucky bride who could walk down the aisle with all three of our wedding giveaways.
This 3rd anniversary giveaway is for BridalBook members who are getting married on or after December 1, 2013. (You must be logged-in to create your moodboard. Log-in here.)
ADVERTISEMENT - CONTINUE READING BELOW
I'm already logged-in. I want to make my moodboard!
Not yet a member? Sign-up here.
Mechanics of the Giveaway:
This giveaway, in celebration of BridalBook.ph's 3rd anniversary, is open to all registered brides of BridalBook.ph residing in the Philippines whose wedding is on or after December 1, 2013.

To earn entries, eligible brides must:


be a registered member of BridalBook.ph
log-in to BridalBook.ph to access the promo page
create a moodboard by selecting one gown design from Veluz RTW, one look from The Makeup Studio by Madge, and one bouquet design from Gideon Hermosa of Events Studio.

CONTINUE READING BELOW

Recommended Videos

For entries to be valid, brides must confirm or update their member registration details.  The BridalBook.ph system will fill out the form based on membership details.  Brides must complete all the details and/or update info where needed.
A confirmation email will be sent to the registered email as proof of entry.

Brides can create new moodboards daily to earn more entries.

Promo duration is from June 7 to July 31, 2013.  Deadline of submission of entries is on July 31, 2013 at 11:59:59 PM, BridalBook.ph server time.

The BridalBook.ph team will be selecting the lucky bride on August 1 at 5:00 PM at BridalBook.ph's office, 8th floor, Robinsons Cybergate Tower 3, Pioneer St., Mandaluyong City PH.

There will be one (1) lucky bride to receive of a gown from Veluz RTW, a wedding day makeup from The Makeup Studio by Madge (bride only), and a bouquet (bride only) from Gideon Hermosa of Events Studio.
Giveaways are not convertible to cash and are non-transferable. Items selected in the moodboard may not be the exact items to be awarded to the lucky bride.

The selected bride will be notified by an authorized BridalBook.ph representative via email, phone call and registered mail.  Giveaways must be claimed within 30 days of receipt of notice at BridalBook.ph's office. 

Failure to claim within the allotted time/duration forfeits the selected bride's right over the giveaways.
To claim, the selected bride must present the notification email, proof of entry email, two (2) valid IDs and any proof of wedding date (e.g. supplier booking contract, wedding invitation, marriage license). IMPORTANT: Failure to submit any of the required proof and documentation is a ground for disqualification. In the event that the selected bride cannot claim her giveaways in person, she can send a representative bearing an authorization letter, two (2) valid IDs of the representative, photocopies of the selected bride's two (2) valid IDs and all the requirements for claiming.

The selected bride is responsible for coordinating with the partner wedding suppliers for meetings, fittings, sampling and the like and shall shoulder any costs incurred in availing of her giveaways.

Should the selected bride be from outside Metro Manila, she shall make her own arrangements in claiming the giveaways and also in availing the suppliers' services.  She shall shoulder any and all suppliers' out-of-town charges, cost of shipping and/or delivery.

BridalBook.ph reserves the right to photograph and interview the selected bride and use said material for promotional purposes.

Employees of Summit Publishing Co., Inc., partner suppliers and their relatives up to the second degree of affinity or consanguinity are not eligible to be selected as the lucky recipient of the anniversary giveaways.

ADVERTISEMENT - CONTINUE READING BELOW
Load More Stories