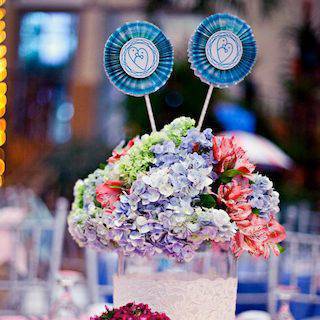 Two years ago, our team put up BridalBook.ph to help brides find the perfect suppliers that match their needs and taste. Back then, there were less than 10 people in the team--and it can be hard to put into words the difference that those two years made on the site, on the team, on our readers, and our advertisers. While describing how much the site has changed can be challenging, showing gratitude to those who've helped the site was much easier.
Last May, our team thought of organizing a small dinner to say "thank you" to our suppliers. The intimate gathering didn't push through. Because lots of suppliers showed their love for us by helping us out with our event, the "small dinner" evolved into a big celebration at The Glass Garden in Pasig. :)
When we realized that the event was starting to become bigger than what we've imagined, we knew we had to think of a theme. We picked the adage "Love makes the world go round" to set the tone for the event, and a carnival-themed affair perfectly complemented the inspiration. We worked closely with Gideon Hermosa of Events Studio to bring the theme to life, and he really wowed us (and our guests) with his team's creativity. (Check out photos of our décor and DIY projects!)
CONTINUE READING BELOW
Recommended Videos
ADVERTISEMENT - CONTINUE READING BELOW
The night was not only a feast for the eyes, but for the palette as well. Queensland Catering Services treated us to a sumptuous feast, and we capped off our dinner with yummy desserts from Bizu's buffet. A cake from Judy Uson, The Cake Artist was as delicious as it looked--it was dressed up in the event's motif and signature cockades and pinwheels! Moreover, Hearts and Bells provided cupcakes with candy shaped like our lovey doves logo. Our guests also got to take home sweet reminders of the celebration: Russian cookies from The Russian Cookie House, and chocolate truffles from Chocolate Confections.
We figured that a carnival-themed party wouldn't be fun without games, and so we set up game booths that allowed guests to win tickets for the raffle at the end of the evening. We gave away a bath set from My Little Craft, gift certificates for buffets at Dusit Thani Manila and The Peninsula Manila, and gift certificates for stays at The Hyatt Hotel and Casino Manila, The Bellevue Manila, The Inn at Cliffhouse in Tagaytay, Thunderbird Resorts in Rizal and Poro Point, and The Peacock Garden Luxury Resort and Spa in Bohol.
ADVERTISEMENT - CONTINUE READING BELOW
Our celebration was also made memorable with photos. Frame Up Display Rentals allowed us to display our photos in style, while Barely Toast let us have fun with their funky photo booth.

We had so much fun preparing for this event that we've already thought of a theme for our third anniversary. We're keeping the details under wraps, of course, but until then, we'll bask in the fun of the second anniversary event through the photos below. :)
--Kristy
gloweddinglow! :D

Comments
Load More Stories