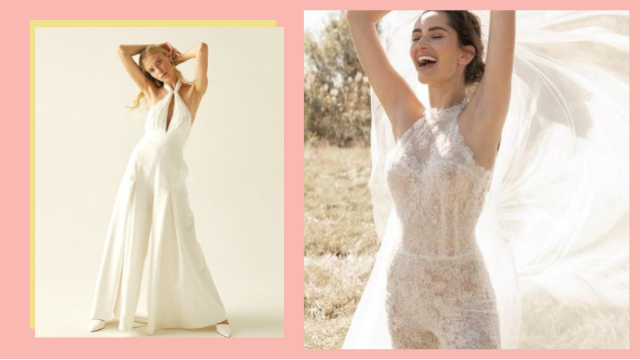 Bridal fashion has undeniably become more diverse and experimental these days. Wedding dresses are constantly rehashed and updated with modern details like high-low hemlines, near-naked sheer bodices, and tiers of tulle fit for a modern-day princess. However, dresses aren't for everyone. If you're the kind of girl who often wears jumpsuits, pantsuits, and trousers for semi-formal occasions, then perhaps choosing the same route for your wedding day might be a good idea.
Bridal suits aren't anything new. Celebrities like Solange, Amal Clooney, and Sophie Turner, have walked down the aisle in leggy looks. If you're worried that a white suit would look too plain for your big day, don't fret: Bridal pantsuits of today vary from feminine designs (think the usual lace and floral appliques) to more masculine and provocative choices (like bold shoulders and decolletage-baring jackets). Plus, they're comfortable enough to take you straight to and through the reception!
Here, we've rounded up the chicest ideas we've seen thus far for your consideration:
1. Lace bodice with deep-V-neckline
This look from Justin Alexander Signature's Fall 2018 runway is simple and elegant. It's perfect for the bride who wants a classic feminine touch to her jumpsuit. The relaxed trousers feature a subtle front pleat that looks flowy, not stiff. Plus, we like how the bodice features little cap sleeves!
ADVERTISEMENT - CONTINUE READING BELOW
2. Halter jumpsuit with detachable tulle skirt
If you're torn between choosing pants and a dress, why not have both? This look from Francesca Miranda's Fall 2020 collection features a lovely lace jumpsuit with a detachable tulle skirt that you can remove (or retain) once they open the dance floor during the reception.
3. Bodice wrapped with beading
If you're the no-frills kind of bride, then go for a jumpsuit with subtle, rich details that are still eye-catching. Take this haltered Elie Saab number, for example, that's delicately beaded to form a floral motif.
4. Flowy pantsuit
For the minimalist bride, pantsuits with relaxed, streamlined silhouettes are your best bet. Go for draped pieces like this cream-colored look with an asymmetrical neckline. The key to pulling this off is to choose luxe fabrics. Otherwise, it'll look too casual.  
5. Pleated pants and keyhole bodice detail
If you're not into lace, appliques, and beading, go for jumpsuits with pleated elements instead like this number with a ruched halter top and pleated pants. It even features a subtle keyhole in the front bodice as a classic alternative to cutouts.
6. Two-piece ensemble
Who says a bridal look only comes in one piece? If a jumpsuit isn't for you, then perhaps you can consider sporting a two-piece ensemble. This look from Sebastien Luke marries the timeless elegance of a simple tube bodice with the comfort of roomy pants. For added drama, the back features dramatic, origami-like draping.
7. Three-piece suit
For brides who want a wedding look with a more masculine touch, then a three-piece suit is the way to go. As opposed to two a simple two-piece suit, adding a waistcoat adds a touch of old-world charm, and it even accentuates your figure! 
8. Pantsuit and suit jacket
If you want the sleek comfort of a jumpsuit and the structured appeal of a suit jacket, you can wear both. Take cues from this Roland Mouret look from the Spring 2020 collection. Its oversized shape was accented by a dramatic bow wrapped around the neckline—so dreamy!
ADVERTISEMENT - CONTINUE READING BELOW
9. Unbuttoned suit jacket and statement accessories
If you're not afraid to show some skin on your big day, then this tasteful and terribly chic look from Ralph & Russo Haute Couture Fall 2019 should be your peg. The ivory suit doesn't look stiff, thanks to the flowy pants and relaxed suit jacket. You can also take cues from this look's accessories by layering necklaces of various lengths to adorn your decolletage.
10. White suit with black lapel
Don't be afraid to accent your suit with touches of black for contrast, like this number from the Tory Burch Spring 2020 collection. We like how the oversized jacket was balanced with almost-translucent lounge pants—a cool alternative to consider for a beach wedding! We reckon it's something that suit-obsessed Bianca Jagger will approve of.
11. Avant-garde suiting
If you want a whimsical bridal look, let this three-piece ensemble inspire you. The open collar and puff sleeves look like a modern Victorian-era jacket, and it's giving us major Alice in Wonderland vibes. What makes this trick look fresh, though, is the gauzy fabric of the layered dress and pants—think of it as the counterpart of a wedding dress's typical tulle.
ADVERTISEMENT - CONTINUE READING BELOW
12. Fit and flared pantsuit
If '80s power dressing feels too bold for you, take it a decade back by going for a pantsuit with a '70s vibe. Here, this gorgeous pantsuit features a jacket fitted at the waist with a hem that falls just below the hips and blends with the subtly flared trousers.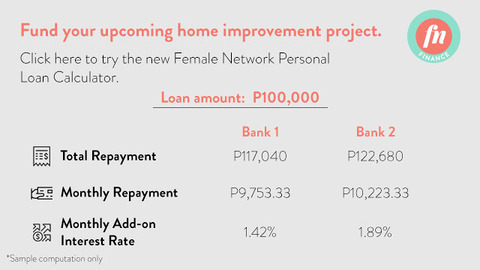 ADVERTISEMENT - CONTINUE READING BELOW
Load More Stories