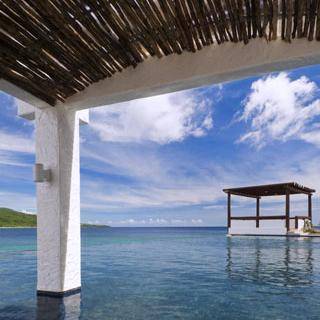 Planning your wedding takes up a lot of time and energy, so on your honeymoon, you deserve to wind down and enjoy yourself. If you're looking for a luxurious place to relax and get away from it all, you might want to try going to Bellarocca Island Resort and Spa. Just a five-minute boat ride from the south-west coast of Marinduque, the Santorini-inspired resort and spa is the perfect honeymoon spot with its luxurious accommodations and beautiful scenery.
The word "Bellarocca" means "beautiful rock"--definitely what this small but enchanting island is. The view from the rooms and villas--whether of the island, the sea, or Mt. Malindig, located on the main island of Marinduque--are all spectacular. Each room comes with a number of amenities, including an entertainment system, Internet connection, a Jacuzzi, and a private balcony.
For an even more luxurious experience, you can choose to stay in a private villa; each one comes with its own private infinity pool, outdoor Jacuzzi, pocket garden and golf cart. The lounge areas by the pools will allow you to sunbathe to your heart's content; you can also get a massage or--even better--a couple's spa treatment.
ADVERTISEMENT - CONTINUE READING BELOW
If you're looking for a good workout, you can swim in the different pools, take a hike or a quick jog, visit the resort's gym and fitness center, or participate in the water sports activities they offer like kayaking, windsurfing and jet skiing. And when you want to wind down at the end of the day, you can enjoy a romantic private dinner for two at the hotel's terrace, or watch the sunset over cocktails at the tea house, which has an uninterrupted view of the sea.
If you're dreaming about spending your honeymoon in this Mediterranean weekend getaway, check out how you can win a honeymoon package to Bellarocca Island Resort and Spa.
Photos courtesy of Bellarocca Island Resort and Spa

Comments
Load More Stories