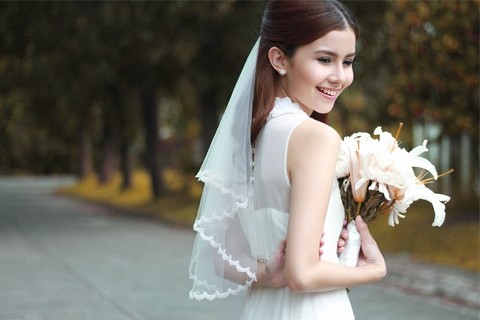 Brides tend to have that impulse for perfection when planning the wedding. Instead of trying to fit the mold of the perfect bride, New York trained make-up artist Pam Robes advises to let your wedding look reflect your personality with these tips:
STRIKE A BALANCE BETWEEN HOW YOU LOOK IN PERSON VS IN PHOTOGRAPHS
"Too often brides look overdone. There's this tendency to put more make-up for fear it won't be noticeable in photos. In doing so, the bride can look dated or worse, like an entirely different person." Pam opts for fresh, glowing skin, groomed brows and well-defined eyes for her brides. When strategically placed and seamlessly blended, make-up can look pronounced enough to enhance your best features both in person and in photos.
STICK TO YOUR SIGNATURE LOOK
"If you are the kind of woman who wears red lipstick or puts on black eyeliner everyday and that makes you look and feel your best, you may very well do the same on your wedding day." To balance out a bold lip, Pam leaves the eye make-up 'barely there' and uses falsies for definition. Alternately, she softens lined eyes with nude pink lips for a more refined look.
ADVERTISEMENT - CONTINUE READING BELOW
GO FOR A 'DO' THAT SUITS YOU
The classic updo is not for everyone. Pam advises to choose "whatever hairstyle that reflects your personality and makes you look and feel good - whether up, half-up or down." For that well-balanced, cohesive look, opt for a hairstyle that works well with your make-up and wedding dress.
GOOD SKIN IS STILL THE BEST FOUNDATION
While make-up can do wonders, having healthy, clear skin already makes the bride feel beautiful and it sets a positive mood for the day. Pam encourages brides to "prep the skin by getting facials months ahead, drinking lots of water and getting lots of sleep days before the wedding." Most importantly, relax, have fun and relish your special day with your new husband and loved ones.
Recommended Videos
Comments
Load More Stories