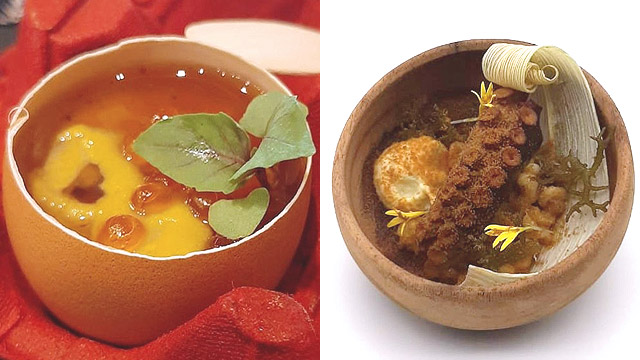 Apart from the kilig moments between the bride and groom, one thing that guests always look forward to at weddings is the menu. This is probably one reason why couples make sure that they get the best that their budget can afford, since good food makes things more memorable.
ADVERTISEMENT - CONTINUE READING BELOW
So, bride-to-be, if good food is equally important to you on your wedding day and you want your guests to leave the even happy and busog, then we feel an obligation to tell you about The Blue Leaf's newest collaboration. 
In partnership with Our Awesome Planet, they've launched a collaboration between Manila's most esteemed chefs and The Blue Leaf's partner caterers to bring you 11 exclusive menus. Here's a glimpse of all the food we got to taste (and everything you should seriously be considering if you're planning your wedding this year). 
Chef Mikel Zaguirre x Albergus
Favorite: Sous-Vide Short Rib Green Curry served on fresh coconut shell with eggplant caviar
Chef Ed Bugia x Bizu
Favorite: Lobster Eclair with truffle aioli 
Lechon Diva x Center Table
ADVERTISEMENT - CONTINUE READING BELOW
Favorite: Lechon Flambe stuffed with rosemary and herbs
Chef Robby Goco x Creamery
Favorite: Mini Wagyu Beef Kebabs with Greek Pita bread, yogurt sauce, red sauce, red onion and parsley
Chef Josh Boutwood x Hizon's
ADVERTISEMENT - CONTINUE READING BELOW
Favorite: Sous-vide Beef Cheeks with parmesan mashed potatoes
Chef Tatung Sarthou x Juan Carlo
Favorite: A Bull of Its Horn, a slow-roasted Batangas beef in Barako demi-glace and calamansi mostarda
Chef Niño Laus x K by Cunanan
ADVERTISEMENT - CONTINUE READING BELOW
Favorite: PUGITA, kulma, cauliflower puree, pumpkin bagoong, mais & Vigan longganisa salsa
Chef Chele Gonzalez x Mesclun
Favorite: Burnt Basque Cheesecake, raspberry gelato, matcha meringue, white chocolate and almond slivers
Chef Natalia Moran x Passion Cooks
ADVERTISEMENT - CONTINUE READING BELOW
Favorite: Arabica-rubbed Roast Beef with Fried Kamote and Truffle Mash
Chef Kalel Chan x Red Chef
Favorite: Balut Chawan Mushi with Uni and Ikura
Chef Francis Lim x Tjioe
ADVERTISEMENT - CONTINUE READING BELOW
Favorite: Pork Belly Patatim, Fried Mantou Sliders, Pickled Radish, Pickled Cucumber
Load More Stories