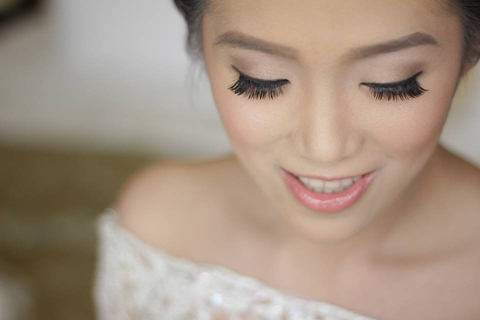 On her wedding day, the bride's makeup helps her walk down the aisle with poise. Her gorgeous face make her feel more confident to embark on a new journey with the love of her life.
Jo Chan, professional makeup artist, offers brides flawless makeovers, guaranteed to give them the extra boost they need on their wedding day. Her stellar skills, which has been honed by practice and experience, shines through in every face she has made up and every life she has changed.
Below, she shares tips for brides.
What is your favorite look for brides?
I believe that the classic and natural look work best with Pinay brides. On their big day, I bring out their best features using my brushes and makeup. I make sure that I simply enhance what she already has, and not change her looks completely by applying thick layers of makeup. I don't like overdoing it; I like my brides to look timeless and elegant up close and in photographs, which are their lifetime mementos.
ADVERTISEMENT - CONTINUE READING BELOW
CONTINUE READING BELOW
Recommended Videos
How early should brides start preparing their skin for the wedding?
I usually advice brides to start prepping their skin at least three months before the big day. Getting enough sleep is of utmost importance, aside from the daily skin routine of cleansing, toning, and moisturizing. I also advice them to undergo a one-time diamond peel session with a dependable facial center, to remove dirt and dead skin cells, and giving their skin a smoother and softer feel. Moreover, this treatment also tightens the pores and minimizes the appearance of pores, blemishes, and acne marks.
What steps should brides add to their beauty regimen to prep their skin before their wedding day? Are there any products that you would recommend to brides?
I will definitely recommend Pond's Flawless White line. It gives that kind of radiance every woman wishes for. Moreover, it also gives skin maximum protection from sun and light damage. The products also help even out skin discoloration in preparation for the big day.
ADVERTISEMENT - CONTINUE READING BELOW
Brides can start their regimen with Pond's soft scented facial wash, which is infused with micro beads that can thoroughly clean and help remove dirt and oil on the face. After which, brides can use Pond's day cream to hydrate the skin, minimize wrinkle lines, and give the skin a radiant glow.
How should brides communicate their makeup preferences to their suppliers? Are you more comfortable with pegs?
It's always best to have open communication with your brides. It gives them assurance that you understand and see with them their dream look on their wedding day. Also, by throwing in ideas and sharing with them your thoughts, they will feel that you care for them as a friend and not just as their makeup artist.
What beauty essentials should brides have inside their bridal bag, and why?
I only request them to have oil blotting paper to remove oil especially in the T-zone, paper towels to wipe off their happy tears, and a lipstick for kissable lips.
ADVERTISEMENT - CONTINUE READING BELOW
Comments
Load More Stories