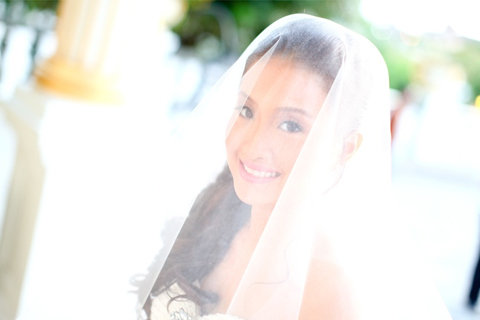 Aside from her gown designer, the bride also considers her makeup artist as her fairy godmother on her wedding day. Her makeup artist gifts her with timeless beauty, making her feel and look like a princess on the big day.
Grace del Rosario offers brides just that and more on their wedding day. She gifts them with the best versions of themselves through traditional and airbrush makeup application and hairstyling. To help brides prepare for the occasion, she also offers beauty tips and rituals to ensure that they get nothing but flawless skin on the most important day of their lives.
What is your favorite look for brides?
For Filipina brides, I do minimal enhancement to highlight their best features. I usually focus on the eyes using neutral browns, pinks, and peaches. I rarely put blues, greens, and violets for the ceremony because it makes the makeup look dated, and we want timeless beauty for wedding photographs. Clear and glowing skin is key to achieving bridal beauty. Also, the bride needs months of preparation using the right products and treatments from trusted brands. 
ADVERTISEMENT - CONTINUE READING BELOW
How early should brides start preparing their skin for the wedding?
Soon-to-weds should start prepping their skin as early as the first day of their engagement to achieve clear and glowing skin in time for the wedding. This can be done through trips to the couple's trusted skin clinic for facial treatments and procedures, and with the help of the right products that will maintain the quality of the skin.

CONTINUE READING BELOW
Recommended Videos
What steps should brides add to their beauty regimen to prep their skin before their wedding day? Are there any products that you would recommend to brides?
I am a low-maintenance girl myself. I just make sure that all my makeup is totally removed from the face with the help of oil-based makeup remover. Before going to bed, brides should genttly wash their faces with Pond's Flawless White Deep Whitening Facial Foam before applying a deep moisturizing product. I also love how Pond's Flawless White Lightening Day Cream with SPF 18 keeps my skin moisturized and protected from harmful UV rays without that greasy and heavy feel.
ADVERTISEMENT - CONTINUE READING BELOW
How should brides communicate their makeup preferences to their suppliers? Are you more comfortable with pegs?
Pegs are really important not just for the makeup artists, but for the other suppliers as well. It puts everyone on the same page. Although I like referring to pegs, I still follow my instincts when choosing the colors and the look for my client. I just use the peg as a guide for client's preference, but I make sure that the look that I do for my brides are timeless, perfect for their skin tone, and skin type. And of course, with my magic touch, I help them become their most beautiful on their wedding day.
What beauty essentials should brides have inside their bridal bag, and why?
A retouch kit for airbrushed brides is not necessary because we assure that the look that we do to will last throughout the event. But for particular brides who opt for traditional makeup, I suggest that they bring oil control paper, loose powder, lip gloss, and tissue for their happy tears.

ADVERTISEMENT - CONTINUE READING BELOW
For more information on Grace del Rosario, click here.
Comments
Load More Stories