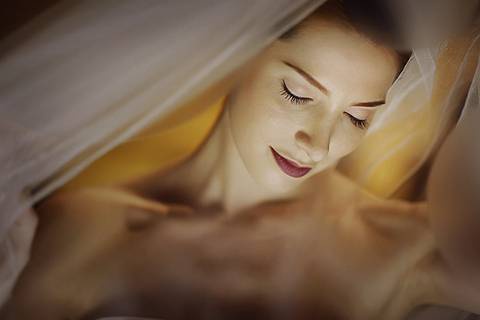 Apart from her big white dress and perfect pair of shoes, the bride's flawless skin is one of the important elements of her wedding look. Her spotless beauty, which has captured her groom's eyes, continues to work its magic on her special day by stealing the hearts of those who gaze upon her.
Professional make up artist Anna Grazieli gifts brides with stunning looks on the big day through makeup application and hair services that result to stellar looks. Apart from exercising her make up prowess, she also lends brides a hand by letting them in on beauty secrets and rituals to help them prepare for their wedding--read on for her tips below.

What is your favorite look for brides?
My favorite make up look for Pinays this 2013 would have to be having bold and well-emphasized lips. Wedding makeup should be clean and dramatic, so I stick to classic looks.

ADVERTISEMENT - CONTINUE READING BELOW
How early should brides start preparing their skin for the wedding?
To get the best results, brides should start preparing their nails, hair, and skin, six months before the wedding to see a big difference.
What steps should brides add to their beauty regimen to prep their skin before their wedding day? Are there any products that you would recommend to brides?
A basic regimen should consist of cleansing, toning, and moisturizing at least twice a day. Pond's Beauty White Toner will help remove any last traces of cleanser and balances the PH of your skin and prepares it for the moisturizer.

It can take ages to find the right products for your skin type and it is often a case of trial and error. To achieve the full benefits of cleansing, toning, and moisturizing, it is important to invest in products that work, but are also inexpensive. Lastly, brides must visit their dermatologist regularly.
CONTINUE READING BELOW
Recommended Videos
ADVERTISEMENT - CONTINUE READING BELOW
How should brides communicate their makeup preferences to their suppliers? Are you more comfortable with pegs?
Having an idea of the sort of style your bride prefers is always an advantage. A fun and creative way to do this is to make a collage of images of hair and makeup ideas and match it with the color scheme and theme of the wedding. It will also help makeup artists and their brides to get to know one another, which is very important especially since they'll be together in the crucial few hours leading up to the big moment.

What beauty essentials should brides have inside their bridal bag, and why?
Always have a powder compact or blotting paper to get rid of excess shine after a long day. Pond's Flawless White Perfect Finish 2-way Foundation Powder is good for controlling oil. Also, a blotting paper is so handy it can be slipped inside bag without taking too much room. Lastly, carry a lipstick and a small bottle of perfume for easy touch ups.

ADVERTISEMENT - CONTINUE READING BELOW
For more information on Anna Grazieli, click here.
Comments
Load More Stories