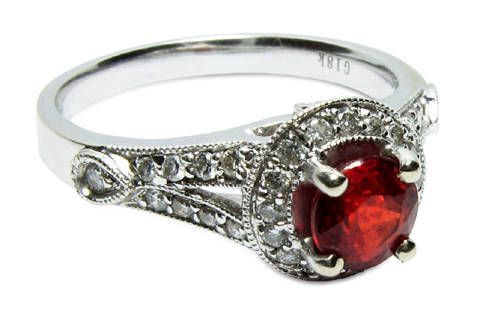 When a guy pops the question, the constant partner-in-crime is a diamond engagement ring. And while most people know by heart what Marilyn Monroe meant in her song Diamonds are a Girl's Bestfriend, there are some brides-to-be who look for diamond alternatives to either save on the engagement ring (and spend the extra money on the wedding instead) or to just wear something that challenges the usual choice.
So whether you're saving up for something else or you wish to don a unique sparkly ring, check out our list of alternatives to diamonds below:
Diamond-like Stones
While nothing beats the feeling of having something as precious as a diamond on your ring finger, there are some stones which share notable diamond-like traits. Wearing one of these still feels regally gratifying, and the best part is that these stones are less expensive than diamonds.
Cubic Zirconia
This synthetic stone is considered to be the cheapest alternative to diamonds. It shares a close resemblance to a diamond as it is also colorless, yet the cubic zirconia has a higher dispersion rate--this means it sparkles with many colors when it catches light.  It is also considerably durable as it weighs more than a diamond and is harder compared to other gems.
Moissanite
Discovered from a meteorite that fell from earth, moissanite is another popular choice as alternative for diamonds. Compared to diamonds, the moissanite is said to be more brilliant and refractive. It costs less than a diamond does but is valued higher than a cubic zirconia because of its limited availability. It is also not entirely colorless as it tends to be a bit greenish or grayish when hit by bright sunlight.
White Sapphire
One of the earliest diamond alternatives discovered by scientists is the white sapphire, which shares notable similarities with a diamond yet costs less. This colorless sapphire can be cut and polished like a diamond, and is also almost as durable--making it a popular alternative for diamonds.
Colored Gemstones/ Birthstones
While diamonds are set to be the norm for engagement rings since it stands for purity and the promise of forever, others opt for colored gemstones or birthstones to channel a more modern style. These stones also highlight other values relevant to marriage.
Ruby
This fiery red stone stands for passion as evokes intimacy and sensuality that couples share in their relationships. It is also the birth stone for July. The stone can either be an orangey red or a purplish red, making it perfect for brides who want to make a bold statement. Eric Johnson gifted his celebrity bride-to-be Jessica Simpson with a ruby engagement ring that costs $185,000.
Emerald
This refreshing green stone has the favored shade of Venus, the greek goddess of love and beauty. Emeralds are a lasting symbol of love and beauty, which are relevant values in a marriage. It is also the birth stone for May. John F. Kennedy proposed to style icon Jacqueline Bouvier (Kennedy Onassis) with an emerald engagement ring.

Blue Sapphire
All eyes were on Kate Middleton's ring finger when she and Prince William of Wales formally announced their engagement to the public. The popular oval sapphire ring used to be Princess Diana's--making sapphire engagement rings coveted by brides who want to feel like royalty, too. Hollywood celebrity Penelope Cruz was also gifted with a sapphire engagement ring from hubby Javier Bardem.
To see listings of ring suppliers, click here.

You might also want to check:
Comments
Load More Stories