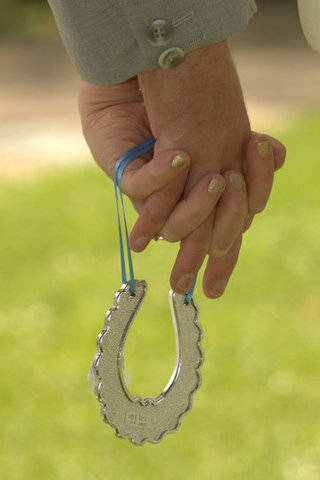 This weekend, a lot of couples will be aiming for the perfect 10--literally. While married couples are not likely to forget their most special day, those tying the knot on Sunday, October 10, 2010 will have an easier time remembering their wedding date: 10-10-10.
Fully Booked
Pinoys evidently have a penchant for triple numbers. Sunday will be a very busy day at the San Agustin church, as 10 couples will say their I do's in one day. On the same day, the Manila Cathedral will be the ceremony venue for seven couples. Five couples will be married at the Paco Chapel--and the church administration shares that slots were already full by April 2010. Similarly, three couples will get married at Caleruega in Batangas.
The triple 10 on Sunday will also bring good business to reception venues. Blue Leaf Pavilion will be hosting three weddings on the said date, but there were over 20 inquiries from couples wanting to celebrate on October 10 of 2010. Plaza Ibarra had a similar situation, with over 10 couples expressing interest to celebrate their reception at the venue.
ADVERTISEMENT - CONTINUE READING BELOW
Luckily for these couples, churches and establishments will still offer the same rates for Sunday. Since October 10, 2010 does not fall under the usual peak season for local weddings (which is from December to February), couples can still enjoy regular rates at their chosen venues.
Not-so-perfect 10
While the remarkable date on Sunday has generated buzz among the wedding (and other events) community, Prof. Sherwin Gomez, a Feng Shui expert who offers consultations for individuals, couples, and businesses, shares that October 10, 2010 isn't necessarily an auspicious date for getting married. Prof. Gomez explains that this Sunday happens to be a Yin Water Snake day or a Danger day. For most people, this Sunday could be a great day for groundbreaking, religious worship, or positioning beds, but not for getting married--except for people born under the signs of Rabbit, Tiger, or Horse. For people born under other signs, Prof. Gomez suggests October 11 (Monday) would be a better day for tying the knot.
ADVERTISEMENT - CONTINUE READING BELOW
October 10, 2010 may not be a generally auspicious day for getting married, but Prof. Gomez says that it might be a good day for some couples, depending on the year, month, day, and hour that they were born. By consulting a date selection expert for their wedding, couples can determine the auspicious wedding date for them. He points out that having a good wedding date won't automatically mean that the couple won't encounter any problems in their marriage--but a good wedding date will give couples the strength to overcome challenges in their life together.
For situations where the couple's chosen wedding date turns out to be unlucky, Prof. Gomez suggests to his clients to get married civilly before the chosen date--and then the couple can sign their wedding contracts on an auspicious date. This way, he says, the inauspicious effect of the wedding date won't take a toll on the couple since they've already been married.
ADVERTISEMENT - CONTINUE READING BELOW
Prof. Gomez also notes that some couples will try to offset inauspicious wedding dates by purchasing objects that are said to bring luck on their wedding date. He advises that couples should think long-term, and instead buy lucky objects that will bring harmony to the marriage (and not just the wedding). He also suggests using Feng Shui in the home to foster a harmonious relationship between the couple.
Whether couples getting married on October 10, 2010 have chosen that date because they think it's lucky for them, because it's easy to remember, or just because, couples should remember that it's really up to them to make their wedding--and more importantly, their marriage--a memorable and meaningful one.
Comments
Load More Stories