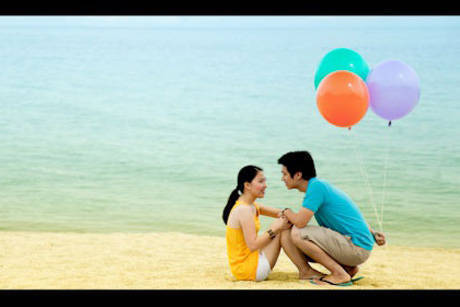 To kick-off this love-filled month of February, we welcome even more BridalBook suppliers who are just as committed to spreading the love to the marrying crowd. Browse through our list of  below and you might just find the one you've been looking for!
Bridal Fairs
CCG Expo & Fairs
This up and coming group of fair organizers offers the marrying crowd more reasons to celebrate, as it brings the We're Engaged! Bridal Fair on October 21-22 at PICC. The fair aims to take care of  brides' wedding needs and suppliers' businesses--making it a harmonious event for the local wedding industry.

Wedding Gowns
Jazel Sy Bridal Wear
As a designer, Jazel Sy is committed to deliver the best for her clients by taking into consideration their personal taste and style, and vision. Grounded in her passion for fashion and excellent customer service, she aims to sew into life dream wedding gowns that inspire and leave lasting impressions.  
ADVERTISEMENT - CONTINUE READING BELOW

Two Chic Manila
Founded and managed by sisters TC Alvarez-Sibal and Ana Alvarez-Laygo, Two Chic Manila's team is dedicated to creating beautiful, treasured pieces that transcend both time and trends. Their easy and elegant pieces laced with luxe details are perfect for brides who value craftsmanship and uniqueness.

Drezzee by Cherrie Cariaga
With 20 years of experience, Drezzee has mastered the craft of making occasion-appropriate gowns. Drezzee started out as an RTW shop, which later on ventured into making custom-made wedding gowns and entourage dresses. Their RTW gowns and dresses cover a wide range of styles, which cater to a variety of personalities.

ADVERTISEMENT - CONTINUE READING BELOW
Rosalyn Lagdameo
Rosalyn's wedding gowns feature designs that range from classic to modern. With the flexibility of her styles, Rosalyn allows her brides' unique personalities to shine through her creations. She is also known to make impeccable suits for the grooms and stunning gowns for the entourage.
Makeup Artists
Cuckooh Make Up
With a firm belief that beauty is confidence, Cuckooh's looks for brides enhance their natural beauty. She makes sure that the individuality of her client is celebrated, and not lost in the makeup.
Makeup by Gex Garcia
Driven by her passion for makeup, Angelica Garcia developed her knowledge from makeup school by constantly engaging herself in makeup projects, workshops, and fashion events. Her experience in the industry led her to do bridal makeup as well.
Makeup Therapy
Cai Guiang understands that women, especially brides, have different personalities and distinct preferences, which is why Cai offers a range of makeup styles that varies from classic, to modern, casual, and romantic, among others. She also offers dermatology consultations and treatments because she believes that having good skin is key to achieving a great look.
ADVERTISEMENT - CONTINUE READING BELOW
Accessories
Gargantilla Jewelry Accessories & Headpieces
Gargantilla offers brides handcrafted accessories--such as fascinators, headpieces, and headbands--to give their wedding ensemble an extra dose of prettiness. Cher Nuguid, owner, also accepts custom orders to cater to various personalities and tastes.
Wedding Rings
Meicel Jewelry
Meicel Jewelry is known for its affordable, high quality, and finely crafted rings and jewelries. Its owner started in the business by designing for a jewelry company, and her passion for the craft led to her opening her own shop. She came out with her first bridal collection in 2005, which immediately sparked recognition both in the wedding and jewelry industry.
Wedding Coordinators
Weddings are Blessings
This team of coordinators treats their events with utmost care and responsibility. They are committed to guiding their couples all throughout the wedding process--from generating ideas right down to the execution of the vision. 
Venues
Sitio Elena
Located in Pasig City, Sitio Elena is a fully-airconditioned venue framed with a full glass finish. The events venue presents a contemporary twist on garden weddings.

ADVERTISEMENT - CONTINUE READING BELOW
Banquets and Caterers
The Plaza Catering
With 45 years in the business, The Plaza has gained much recognition for its excellent food and notable service. They offer quality gourmet dishes--great for weddings with a classic style--including their well-loved Premium Baked Ham, Smoked Premium Corned Beef, and Smoked Prime Tanigue. 
Photography
Art of Love Photography
Eugene Martinez, head photographer, describes his photography as a mix of photojournalism and traditional style. With his love for candid shots and formal portraits, he captures all the precious moments and remarkable details that the couple shares with their loved ones on their special day. "I always treat photography as a passion rather than work," Eugene asserts.

Dominic Barrios
Dominic sees weddings as joyous occasions filled with memorable moments. With his vision, he and his team of eccentric photographers vow to capture those special moments and stunning wedding details. Their personalized approach would make your big day as warm and relaxed as possible. Taking photos of weddings, for Dominic, is not just mere documentation. He believes that each couple "deserves to have elegant, heartfelt, and timeless memories etched in photographs."
ADVERTISEMENT - CONTINUE READING BELOW

Nez Cruz
With his life-long love for art and design, Nez Cruz offers a refreshing take on wedding photography as his images showcase a fusion fine art and lifestyle photography. His seamlessly weaves stories that celebrate life and love.

Triophoto
Triophoto is composed of three young individuals who share a passion for art and photography. They offer conceptual prenuptial photo sessions that aims to showcase couples' love stories and unique personalities through a mixture of contemporary styles.
ADVERTISEMENT - CONTINUE READING BELOW

Videography
Derek Yee Videography
New to the business, Derek Yee offers a fresh spin on wedding videos. As a videographer and editor, he makes sure that the couple's personalities are clearly communicated in the videos. "Every wedding video [is] specially crafted to depict the couple's own love story, [wedding] concepts, and themes," says Derek.
ADVERTISEMENT - CONTINUE READING BELOW

Party Needs
Dragon Fireworks
The largest fireworks manufacturer, wholesaler, and retailer of professional display and consumer fireworks in the Philippines, Dragon Fireworks is a licensed supplier that offers safe, world-class, and quality fireworks. The also have a full line of indoor fireworks and special effects, as well as professional confetti and pyrotechnic services.


Mobile Bars
Mixed Mobile Bar
Mixed Mobile Bar provides premium alcoholic concoctions. They boast drinks that are carefully mixed to meet your desired taste, competent bartenders, and an eye-catching bar presentation that will go well with sophisticated gatherings such as your wedding.
ADVERTISEMENT - CONTINUE READING BELOW
Souvenirs and Favors
1215 Souvenirs & Favors by Little Saigon Manila
A premier importer of Vietnamese products like lacquerware, Little Saigon Manila offers a variety of elegant home accessories that serve as great wedding souvenirs.
Picparazzi Flipbooks
Picparazzi Flipbooks takes the photobooth trend a step further by featuring a series of photos bound together that, when flipped, create the illusion of motion. Printed in an instant, flipbooks are engaging and entertaining souvenirs for your guests.
Love,
The BridalBook Team

Load More Stories