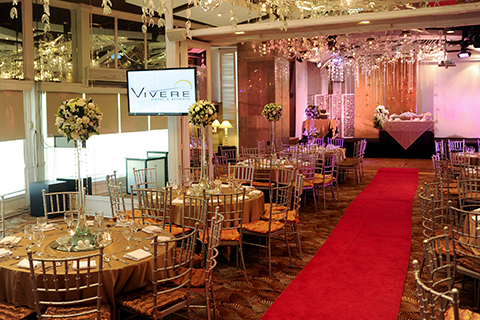 One of the benefits of holding your reception at a hotel is the personalized wedding service. Depending on your needs, you can pick a bridal package that suits your personality and budget.
Vivere Hotel and Resorts in Muntinlupa City offers all-inclusive bridal packages to marrying couples who wish to celebrate their big day in its luxurious grounds. This exquisite hotel is known for its intimate celebrations. Its professional staff goes the extra mile to ensure that its guests have the best experience during their stay.
Every event held at Vivere Hotel and Resorts is unique and flawless, for every couple gets their own personal wedding coordinator. The in-house coordinators pay close attention to the couples' needs suggestions so they can accurately translate their ideas into a memorable gathering as they say 'I do'.
In addition to its customized bridal packages and personalized coordination, Vivere Hotel also boasts a superb banquet service that's second to none. When you hold your gathering in this prime hotel, you can treat your guests to international and local cuisine that look as appetizing as they taste. Depending on the couples' preference, they can opt for a pre-selected menu, or customize one to their liking.
ADVERTISEMENT - CONTINUE READING BELOW
Moreover, this modern-day oasis in the city has 7 well-equipped ballrooms that can accommodate small or big parties. Each of these halls can be styled according to the couples' theme and preferred mood.
But what sets Vivere Hotel and Resorts apart from other hotels, aside from its tailored services are its pre and post-wedding inclusions. For in addition to giving couples their own wedding coordinators and honeymoon suite, they also gift them with a lovely dinner for two at The Nest on their first year anniversary.
Vivere Hotel and Resorts continues to increase its standards and improve its services so it may provide marrying couples the best wedding experience there is. It knows no bounds in terms of innovation for it continues to tailor packages to accommodate the needs and budgets of its growing list of clientele. Truly, this paradise in the city is the perfect location of your dream wedding.
ADVERTISEMENT - CONTINUE READING BELOW
Recommended Videos
Comments
Load More Stories