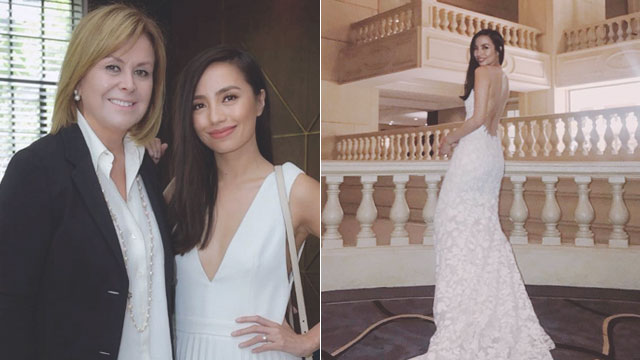 "The perfect bride is the one who finds the perfect dress," says Señora Rosa Clara. Or rather, by her translator, who accompanied Barcelona's famous designer around Manila on her first-ever visit.
ADVERTISEMENT - CONTINUE READING BELOW
Her first stop was an intimate gathering in Makati where the brand announced that none other than bride-to-be Martine Cajucom will be the first Pinay muse of Rosa Clara. The Sunnies creative director will be flying to Spain for Barcelona Bridal Fashion Week where Señora herself will guide her in choosing the perfect gown.
ADVERTISEMENT - CONTINUE READING BELOW
On Instagram, Martine wrote, "beyond honored to be the first filipina muse of @rosa_clara ???? a lovely funny warm successful insanely talented stylish woman who is everything goals"
Rosa Clara is one of the biggest names in the bridal industry. (They open the Barcelona Bridal Fashion Week year after year, which is no small feat.) Get to know the woman behind the brand, and what we can all learn from this fashion entrepreneur:
ADVERTISEMENT - CONTINUE READING BELOW
FemaleNetwork.com: At which point in your path as a designer did you decide to focus on bridal wear? And why?
Señora Rosa Clara: More than 20 years ago I opened a multi-brand bridal store in Barcelona. I realized that what brides demanded was not offered by anyone. That's the reason why I decided to create my own brand in 1995. We used the best fabrics to unite bridal tradition and fashion. I thought I could create something new and the result was a total success.
ADVERTISEMENT - CONTINUE READING BELOW
FN: What's the biggest challenge you've had to overcome to get to where you are today in terms of the business side of your career?
RC: There has always been a balance between the creative part and the business side of my work: I feel half designer and half business woman. Of course, I have had to give up many things and personal time to invest it on meetings and collection closings. Despite that, the results obtained make me look back and feel very proud of myself.
ADVERTISEMENT - CONTINUE READING BELOW
FN:
 

And for the creative side, what's it like to design for different kinds of women all over the world? And how did becoming an international brand affect your style and vision as a designer?

RC: Since the beginning we started selling to markets like the Italian one. We went to a trade show as exhibitors and our product had great success. Since then, new opportunities opened up and currently we are working to strengthen the internationalization, because we still have a long way to go. As a designer, (to) beautify women and being adapted to their requirements have always been one of my main goals. This is why we offer a wide variety of styles and silhouettes to all different women. I would like to wear all brides in the world.

ADVERTISEMENT - CONTINUE READING BELOW
FN:
 

What's your best advice for brides working with designers for the first time?

RC: Nowadays brides are digital and when they come to the boutique, they already have a lot of information. I would recommend them allowing themselves to be advised by qualified staff and set aside any preconception. In addition, I would tell them to be faithful to white color and don't make the mistake of disguising themselves.
Load More Stories