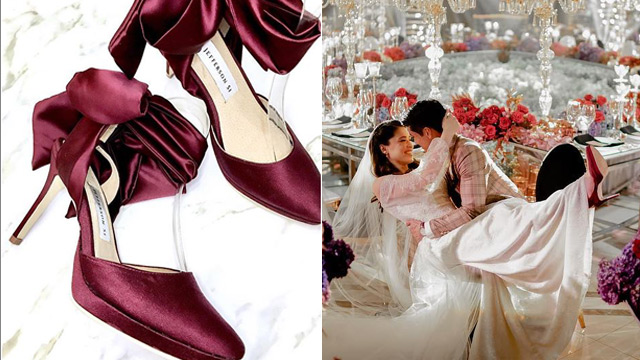 The moment you start planning your wedding, the first thing on your agenda might involve searching for a bridal gown designer, but finding the right wedding shoes is just as important as picking your dress. It plays a huge role in ensuring that you stay comfy and relaxed all throughout the wedding—let's not forget that you'll be walking in those shoes for at least a couple of hours!
ADVERTISEMENT - CONTINUE READING BELOW
Most brides would often shop for a pair at the mall, and some would even go as far as buying their heels from a designer label abroad. The only problem? "Majority of Filipinas and Asians have wide and short feet, which is why the fit of imported and luxury shoes is often too tight for them," explains local shoe designer Jefferson Si. Of course, size is only one of the things that you should consider when shopping for your bridal shoes. Ask yourself: Are they comfortable to wear? Do they come in the color you want? Or is the pair too "ordinary" for you? 
CONTINUE READING BELOW
Recommended Videos
To make the search easier for you, consider taking the customized route. Here, we reached out to Jefferson Si, who has been designing custom-made shoes for Filipina brides since 2015; most recently, he designed Kylie Padilla's sultry red heels for her dark romance-themed wedding, and his creations were also spotted on celebs like Coleen Garcia, Elisse Joson, Jodi Sta. Maria, and more.
ADVERTISEMENT - CONTINUE READING BELOW
ADVERTISEMENT - CONTINUE READING BELOW
Below, the designer talks about his brand and everything you need to know before getting your bridal shoes customized:
Female Network: Can you walk us through the process on how a bride can personalize her wedding shoes?
Jefferson Si: My design process always begins with knowing the profile of the client. I draw inspiration from her love story, personal style, lifestyle, and quirks. From there, I'll conceptualize a design that fits her needs and personality—all while still keeping my signature aesthetics.
ADVERTISEMENT - CONTINUE READING BELOW
Every detail will be discussed during the consultation appointment, including the materials and embellishments to be used, as well as the heel height, proportions, and type, etc. The client's measurements will be taken as well to make sure the shoes fit like a glove.
It is very important for me as a designer to make my client wear something that she would be comfortable in, not only in terms of fit but even with the overall design; it should be a reflection of her personal style and essence.
ADVERTISEMENT - CONTINUE READING BELOW
FN: How long does it take for one pair to be finished?
JS: We would normally require at least eight to 10 weeks production lead time for a pair of custom heels. This is to ensure that every pair is given enough time and attention to take shape, and that it is made with quality.
Shoemaking is a very complex process and a lot of people don't realize this. A pair of handcrafted shoes, on average, would pass through seven to eight pairs of hands from sourcing, design, patternmaking, cutting, assembly, finishing, quality control, packing, to the actual delivery. It is indeed a labor of love.
ADVERTISEMENT - CONTINUE READING BELOW
FN: What makes your heels comfortable to wear? What are they made of? 
JS: Comfort is definitely something I've worked on closely with my team of experienced shoemakers and cobblers. We constantly test out our shoes to further improve how we make them, such as finding ways on how we could make it sturdier and more comfortable.
All of our creations are made-to-measure. We take into account the width and length of the client's feet including the special conditions one may bear. A well-fitting pair of shoes definitely make any shoe more comfortable to wear.
Also, when I was starting out as a shoe designer, I learned that the standard shoe is usually based on Caucasians and European sizing; this is tracing back to the 70s and 80s when Marikina used to do a lot exports. I realized that far from the long and narrow feet of caucasians, majority of Filipinas and Asians have wide and short feet, which is why imported and luxury shoes fit too tight. So, the first thing we did is to develop a new set of shoe that would fit a Filipina's feet better, with wider entrada and a better arch angle for better comfort. 
ADVERTISEMENT - CONTINUE READING BELOW
There are other components too that make our shoes comfortable like our memory foam padding, which a lot of our clients rave about. So far, all my bridal and celebrity clients were able to celebrate their wedding without having to change into their flats. 
ADVERTISEMENT - CONTINUE READING BELOW
FN: How much does it cost to have one pair of heels customized?
JS: Our rates range from P22,000 to P32,000 depending on the genuine Swarovski crystals, materials, and/or details required of the design. 
It's definitely luxury on the soles. However, as a designer, I am also very practical when it comes to designing my clients' shoes. I always put into consideration how they could repurpose their custom heels even after their wedding. 
Remember, the bridal shoes is one of the very few things a bride could still wear even after the big day. It should be a personal and special accessory that can bring back memories. I am always delighted when my past brides send me their OOTDs years after their wedding, saying how they get to wear their custom heels for many important occasions. 
ADVERTISEMENT - CONTINUE READING BELOW
FN: Can you share us a story about your most recent work? How did you conceptualize the design?
JS: I don't like to play favorites with my designs but Kylie Padilla's shoes is a remarkable one. Kylie and Aljur's wedding was staged in only three weeks. Her shoes were also just made in three weeks! I only met with Kylie once to conceptualize on the design and took her measurements. Knowing that Kylie was anything but conventional, we decided to do something bold, sultry, sexy, and dark to fit the theme of the wedding. 
Taking cue from their wedding's theme and color motif, we chose a very pretty shade of bordeaux wine red color and I mixed two different materials to add some texture: premium gazaar silk and charmeuse silk. It's a good breaker to her ivory Mak Tumang bridal look. 
ADVERTISEMENT - CONTINUE READING BELOW
FN: Do you have a signature touch for every customized pair that you make?
JS: I'd say my signature touch is the overall balance in each piece that we produce. First, of course, is style vis-a-vis comfort. It is a constant challenge to make the shoes look pretty while keeping them comfortable for my clients. We all know how having too much platform kills the look, but it is also what makes a pair of high heels comfortable. That's why I'm very particular to keep everything on just the equilibrium. 
Second is to keep the elements balanced and elegant. One of the most challenging parts of being a designer is when a client is overwhelmed with too many ideas and possibilities. It is very tempting to put all premium elements like Swarovski crystal, lace, and duchess satin fabric, into one pair of shoes, so it is crucial that we hit just the right point. Otherwise, the shoes will end up looking tacky. 
ADVERTISEMENT - CONTINUE READING BELOW
In general, I would describe my aesthetic as both dreamy and practical. When I do designs for my clientele, I always put into consideration how they could repurpose their custom heels even after their wedding. 
ADVERTISEMENT - CONTINUE READING BELOW
Comments
Load More Stories