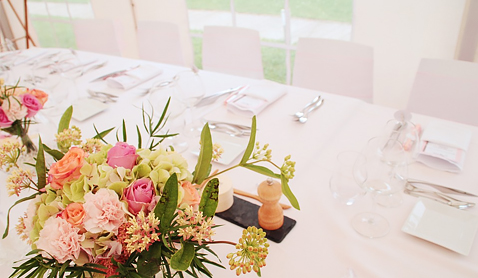 Your wedding is all about you and your partner. Getting married is your one free pass to having everything done according to your liking, not anyone else's. However, you do have guests, and since those in your list are people that you and your husband-to-be both care about, you definitely want them to have a great time on your special day. Create a lively and memorable reception with these ideas that will keep you and your guests entertained.

1. Make sure the food is up to your standards.
Your guests may forget a lot of things about your wedding, but the food is something that they'll definitely remember. Your spread need not be highly extravagant, but it does need to be filling and tasty. A great example is the brunch served during Ryan and Judy Ann Agoncillo's wedding, composed by danggit, tapa, longganisa, and tocino. Granted that they also had a dinner reception, the initial simple fare was enjoyed by the guests and remembered long after the festivities.

2. Always have snacks and refreshments ready.
It's a common occurrence: Food always arrives late, much to the barely-hidden chagrin of your invited friends. To avoid hunger pangs from setting in, have your caterer prepare light snacks prior to the main meal. Aside from keeping your guests satisfied, this can also buy you and your coordinators time to get everything ready before the reception proper begins.

3. Plan for a short but sweet program.
Instead for opting for something long and cheesy, work with your partner and your coordinator prior to your big day on how the flow of your reception would go. Make sure to cut your program into short but full segments that will keep everything snappy.

4. Be inclusive.
You've probably attended a wedding wherein most of the guests felt that they couldn't relate with anything due to the fact that the couple seemed to have forgotten that they had around 80 other people in the venue with them. Create activities which will enable your guests to participate, such as games or interesting zones within the reception area (dirty ice cream booth, anyone?). This will allow you to share more fun experiences with the people that mean most to you.

5. Keep your toasts short.
A week before your wedding, speak to people who will have the honor of toasting to your union. Orient your father, your groom's best man, and whoever else will be raising the glass to keep their spiels short but meaningful. As much as you'd love to hear their well-wishes, you wouldn't want embarrassing stories of your fifth grade shenanigans going on for 15 minutes.

6. Have something planned for the kids.
Children, especially toddlers, are often hard to handle during such events as they tend to easily get board. To help your mommy friends keep their youngsters in a good mood, have something at their table that will keep them entertained. Mini toys or a pail of crayons and sheets of paper can be a great diversion for kids.

7. Allow your guests to request songs from the band or the DJ.
Don't hog the playlist. Give your guests the chance to show their dance moves by providing them with request cards for the band or the DJ. This will create a more relaxed and fun environment - not to mention a lot of funny memories you can go back to in your wedding album.

ADVERTISEMENT - CONTINUE READING BELOW
Comments
Load More Stories