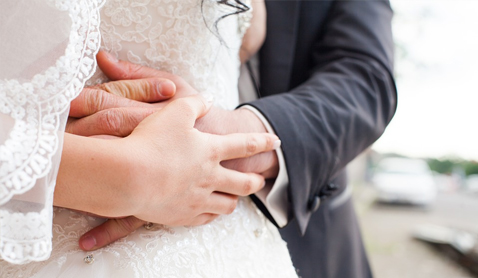 You've already decided your wedding's theme and color scheme, and now you have to go about the business of putting things together. As many married women will tell you, tying the knot isn't cheap, but if you're willing to add just a bit of effort and creativity, you'll be able to shave a great deal off your expenses.

Be money smart while planning for your big day and start your marriage with good financial standing. Below are a few tips that can help keep you in the green.

1. List your negotiables and non-negotiables.
Gone are the days when weddings are only about bouquet-tossing and dove-releasing. There are now a lot of planners and suppliers offering non-traditional gimmicks to make your day unique. Everything may seem to be beautiful at first but when you think about it, do you and your partner really need all those bells and whistles? Sit down and discuss which ones are a must and which ones you can do without. This way, you'll stick to the essentials without totally compromising each other's wants.

2. Research.
Don't jump on the first supplier that gives you a discount. Go online or ask around for more leads. Recommendations from other married people are very important, as they can often give you suppliers who don't charge and arm and a leg while being great at what they do.

3. Don't be shy to ask for help.
You and your partner probably have friends who work in the catering industry or who play for a string quartet. Don't be afraid to approach them for their services. More often than not, they'll be happy to help you out. Some will even be generous enough to offer what they do for only a minimal fee. Just remember to be professional about payments. You wouldn't want your marital bliss to be dampened by a rocky friendship due to pending bills.

4. Look for interesting event packages.
There are many suppliers that offer all-in-one packages. Opt for venues that already have lights and sounds, or catering that already provides for flower arrangements for the reception. The less number of suppliers you deal with, the better, as going with packages is way cheaper than getting what you need from separate sources.

5. Consider bargain pieces for you and your entourage.
More and more brides-to-be are discovering the paradise that is Tutuban Mall. Tutuban Mall has a plethora of fabric suppliers as well as RTW wedding and entourage gowns that can totally bring your costs down. There pasilyos upon pasilyos of seamstresses who can help you with your dream dress, or if you're feeling creative, there are RTW pieces that you can tweak and customize to suit your tastes. You can also visit Divisoria's 168 Mall just a few blocks away for more options, before heading to Tabora which is a good place to find raw materials for wedding decors or ideas for giveaways.

6. Be daring with choosing the material for your rings.
Traditionally, wedding bands are made of gold, but an increasing number of couples opt for other materials, including sterling silver, tungsten, titanium, and even carbon fiber. Depending on the level of customization you want, you can get them cheaper than rings made from gold.

7. Go DIY.
Put those Pinterest boards to good use and go DIY! Adding your personal touch to your own wedding will make it more memorable not only to your guests, but also to you and your husband-to-be.
ADVERTISEMENT - CONTINUE READING BELOW
CONTINUE READING BELOW
Recommended Videos
Comments
Load More Stories