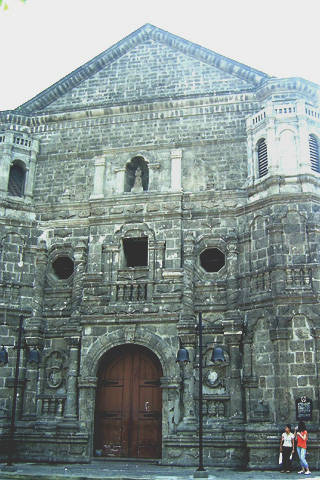 Choosing the church where you will get married can be a challenging task--there are many things to consider, including your budget. Most of the large and popular wedding churches in the Philippines can cost a pretty penny, but there are many lesser known churches that are just as beautiful and much more affordable to book.
Our Lady of Remedies Parish (Malate Catholic Church)
The Malate Church is one of the oldest in the country, having been built by the Augustinian friars in the 16th century. It was damaged several times over the past 400 years, but the structure that stands today was rebuilt in the exact same spot where the original church was built. If you plan to have your wedding early on a weekday morning (9 am), the wedding rate is PhP4000, provided you have a maximum of four pairs of sponsors.

Address: 2000, M.H. Del Pilar St., Malate, Manila
Tel. No.: 523-2593 /400-5876-77                
Fax No.: 524-6866
E-mail Address: remedios@skyinet.net
Mary the Queen of Peace Shrine (EDSA Shrine)
The EDSA shrine stands to commemorate the peaceful and bloodless People Power Revolution of 1986, where participants in the revolution prayed for Mother Mary's intercession. Today, masses are held regularly at the shrine, as well as weddings. The rate for weddings at the Mary Queen of Peace Shrine is PhP5000, inclusive of the priest's services, air conditioning and carpet.

Address: EDSA cor. Ortigas Ave., Quezon City
Tel. No.: 631-5734
Mary, Queen of the Apostles Parish
Situated far from the busy city in Sucat, Paranaque, the Mary, Queen of Apostles Parish is perfect for quiet and intimate ceremonies. It's not air conditioned, but the circular structure's metal grill walls are surrounded by trees and landscaped gardens, allowing the breeze to pass through. The fee for a wedding ceremony is PhP2000 for parishioners and PhP5500 for non-parishioners.
Address: San Antonio Valley 6, Sucat, Parañaque City
Tel. No.: 826-5315           
E-mail Address: maryqueenofapostlesparish@ymail.com
Villa San Miguel (small chapel)
Also known as the Archbishop's Palace, the Villa San Miguel was once closed to weddings. But since it was reopened to weddings, it has become a popular venue. The small chapel is not air-conditioned and can hold up to 70 people, and the lawn outside is ideal for picture-taking. Booking a wedding in the small chapel costs about PhP2500.
Address: Archbishop's Palace, 438 Shaw Boulevard cor. E. Rodriguez Avenue, Mandaluyong
Tel. No.: 531-6150/ 531-7069
San Antonio de Padua Parish (Calumpang Church)
A modern structure set on a hill overlooking the Marikina River, the Calumpang Church is a romantic setting for any wedding. Inside the church there is a mezzanine where the glass windows reach the ceiling, making it a light and airy venue. Without availing of the church's flowers, carpet and choir, holding a wedding here will cost PhP3700.
Address: San Antonio St., Kalumpang, Marikina
Tel. No.: 682-1816
At the heart of Davao City lies the San Pedro Cathedral. It was built in 1847 upon the arrival of Spanish Conquistadors. The cathedral is a rather popular tourist attraction, and surprisingly, the rates for weddings here total only PhP4600, including decorations, an organist and a singer.
Address: San Pedro St., Davao City
Tel. No.: (082) 226-4740
Sto. Niño de Cebu-Mactan Parish
The Sto. Niño de Cebu-Mactan Parish has an interesting façade, and is located right in the middle of Lapu-Lapu City, making it easily accessible to those who wish to have a Cebu wedding. The wedding church fee is PhP1500 for parishioners and PhP2000 for non-parishioners.
Address: Brgy. Mactan, Lapu-Lapu City
Tel. No.: (032) 495-8119
Comments
Load More Stories