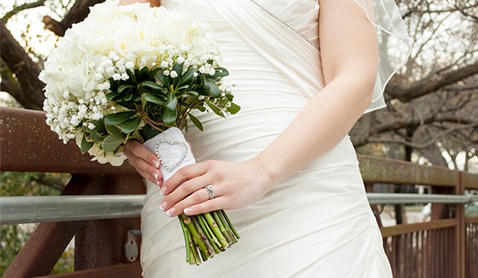 It's just a few more weeks until your big day and everything is set—except you. In fact, you're feeling a lot like Julia Roberts from The Runaway Bride that you even bought a new pair of running shoes. But here's the thing: you aren't the first person to experience cold feet. It's a pretty normal and understandable occurrence, especially since there will soon be huge changes in your life. Besides, getting the pre-wedding jitters doesn't mean that you don't want to go through with tying the knot, reports an article on Today. You're probably just afraid of the unknown. So sit back, calm down, and take time to read through these tips. These can help you focus less on your fears, and more on the positive things to come.

1. Know what's making you nervous.
Could it be your wedding preparations? Or the fact that you're changing your family name very soon? Pinpoint the exact reasons why you're having cold feet. Once you do, it'll be easier for you to resolve them.

2. Quiet down.
Set aside time every day to meditate. Clearing your thoughts and calming your mind can help you see things from a better perspective and give you renewed energy for all the things that you need to accomplish.

3. Talk with someone you trust.
If you feel that your anxiety is getting the best of you, try sitting down with your best friends or your mom and share what you're feeling. Having people to support you through it all can ease your fears.


ADVERTISEMENT - CONTINUE READING BELOW
CONTINUE READING BELOW
Recommended Videos


4. Look for things to do outside your wedding preparations.
All the things that you need to accomplish are probably adding to your tension, so instead of continuously banging your head against a wall, find yourself a good and productive distraction. Whether it's hitting the gym or having a spa day, moving away from the center of the storm can give you the breathing space that you need.

5. Be in the moment.
Thinking of the future and of the weight of the commitment that you're about to make is probably keeping you from eating right or sleeping well. Here's a tip: Don't. Don't focus on what's about to happen. Stay firm on living in the moment. The future will come in due time and trust us, it will be as beautiful as you hope it would be.

6. Remember why you're doing all this.
If everything seems to happen so fast, pause, and think about this question: Why are you doing this? If your answer comes in the image of your partner and leaves you feeling happy, then there's no need to worry. As long as love is your center, everything will fall into place.



Load More Stories