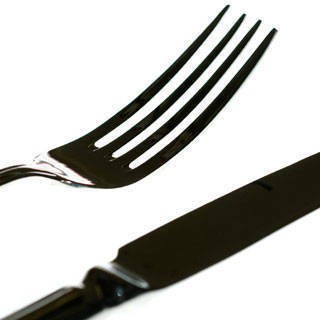 Choosing items to put in your bridal registry can be challenging, especially when you're picking out things that are supposed to last you a very long time. One of these things is flatware; you'll be using these everyday, so they have to be durable. At the same time, you have to pick out something that goes well with the rest of your new home. These simple steps will help you choose flatware for your bridal registry:
1.       Decide whether you'd prefer stainless steel, nickel-plated, sterling silver or pewter.
For everyday use, the recommended type would be stainless steel, since it doesn't get stained and isn't toxic, as well as the least expensive. Nickel-plated is not for everyday use since overexposure to nickel can be toxic. Sterling silver is delicate and pretty, but is mainly used for special occasions. Pewter is toxic and is merely for show.
2.       Look at the nickel content.
Flatware is composed of chromium and alloys, nickel being one of the alloys. There is a number that indicates the durability of the flatware, depending on the nickel content. These numbers are 18/0, 18/8 and 18/10. The higher the number at the bottom is, the shinier and more durable it is., which also indicates the nickel content 18/10 tends to be more durable, but may have higher nickel content than the other two kinds.
3.   Check to see if each utensil is formed from one single piece of metal, or is made of smaller pieces molded together. 
The former is more durable; that is the kind of flatware you want for your bridal registry.
ADVERTISEMENT - CONTINUE READING BELOW
4.       Stick to basic designs.
Pieces of flatware come in simple classic designs, contemporary designs with geometric patterns, or floral designs. For your bridal registry, choose unfussy designs to allow the utensils to match a wider range of dinnerware.
5.       Try carrying the case it comes in.
Good quality flatware tends to be on the heavier side. The weight of your flatware will give you an estimate of its durability.
Once you've done these steps and are satisfied with the style and quality of the flatware you've found, then you can go ahead and include a set for 12 place settings in your bridal registry.
Photo source: sxc.hu
Comments
Load More Stories