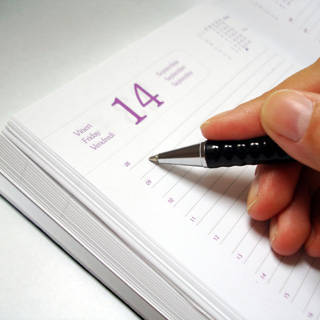 Newly engaged couples are usually easily daunted by the whole wedding planning process--especially when faced with a long list of things to accomplish within a limited amount of time. At the recent Weddings at The Peninsula bridal fair, Paulynn Chang-Afable of Martha Stewart Weddings Philippines shared a few handy and inspiring tips on how you can pull off the wedding of your dreams.
Know what you don't want.
As they plan their special day, most couples find it hard to answer the question, "What do you want for your wedding?" With the wide range of options and possibilities for weddings, it can be overwhelming to pin down your preferences. Paulynn suggests that when you and your beau find it challenging to identify what you want, identify the things that you don't want first. The elimination process allows you to filter your ideas down to something that is ideal and feasible for your wedding.
ADVERTISEMENT - CONTINUE READING BELOW
Have a theme.
A theme for a wedding usually revolves around a color palette, but Paulynn shares that deciding on a theme doesn't have to be based on colors alone. She suggests some ideas that can inspire your wedding: a particular place or country you that is close you and your fiancé, or even something simple like a piece of fabric with a charming detail or pattern like lace or paisley. She also adds that creating a mood board is a good way to filter your ideas and keep everything consistent with the theme. Moreover, bringing your mood board with you when you meet with suppliers can help you relay your ideas clearly.
CONTINUE READING BELOW
Recommended Videos
Think logically!
The checklist of things to do for a wedding may be overwhelming, and the set of tasks can cause couples to immediately push the panic button. To change the perception that planning for a wedding is one daunting obstacle, Paulynn suggests that you treat the whole thing as the first project that you and your fiancé are going to work on together. You can divide the whole wedding planning project into different sections, and deal with these smaller set of tasks one by one. Doing so allows you to manage your checklist better, and it gives you a sense of fulfillment that you're getting work done in specific aspects of the wedding. In addition to this, Paulyn says that creating a master to-do list with a detailed timeline allows you to keep track of your progress.
ADVERTISEMENT - CONTINUE READING BELOW
Don't forget to sign up for a bridal registry.
You might be obsessing about your invites, flowers, gown, and décor-after all, these are just some of the things that first come to mind when planning a wedding. While it's good to pay attention to the details of your wedding, don't forget the things you'll need after the wedding. Remember to sign up for a bridal registry, and make sure to let guests know where you've registered. Most wedding gifts are things for you and your fiancé's future home, so take your time in carefully choosing items for your bridal registry, and think of how your home will look like. Click here for our step-by-step guide to bridal registries.
Aside from the registry, it also important that you and your fiancé attend the pre-wedding seminars which are required of marrying couples. Remember that a wedding is just the beginning of a lifetime with your partner-you'll be spending the rest of your lives together way after you walk down the aisle.
ADVERTISEMENT - CONTINUE READING BELOW
Know when to let go.
The famous saying, "There's no use crying over spilled milk," also applies to weddings. Though every bride for the best for her big day, remember that there are and will be things beyond your control. To emphasize her point, Paulynn even cited her own experience as an example. She had a Thai-themed wedding, and she needed a lot of orchids for the bouquets and decor. But two weeks before her wedding, a typhoon hit the metro Her florist calls her and informs her that there aren't any orchids left for her wedding because of the typhoon. Of course, Paulynn initially felt sad, but she eventually accepted the fact that there's nothing else she can do. With this, Paulynn advises brides to not get too caught up with the details because at the end of the day, the thing that matters most is that you and the love of your life are together.  
ADVERTISEMENT - CONTINUE READING BELOW
For more handy and practical tips, grab the latest copy of Martha Stewart Weddings Philippines.

Load More Stories