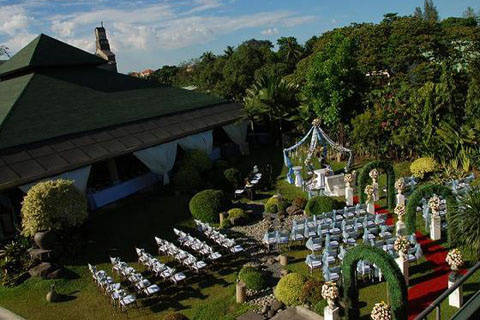 You've found the man of your dreams and you've set a date for your wedding; now it's time to plan your wedding reception. Whether you dream of having an outdoor party, or an intimate indoor wedding reception, there are plenty of venues to choose from. Here are 5 in-demand wedding reception venues in Metro Manila that you might like:
ADVERTISEMENT - CONTINUE READING BELOW
 1. The Peninsula Manila

The Peninsula Manila offers services beginning from the Wedding Consultant, a registry service and catering, among several others. Aside from a wide array of choices for your buffet or banquet, there are also several venues to choose from, such as the ballroom (which can seat from 100-700 guests, depending on the set-up), and several smaller function rooms for more intimate wedding receptions. It's a beautiful place to have a wedding reception, but you'll have to save up and book early.
Rates: Wedding packages for the ballroom range from Php 285,000-399,000, depending on the setup and menu, which is good for up 150 guests. Included in the wedding package are an overnight stay for two in a deluxe room, a bridal car, decorations and a wedding cake.
Address: Corner of Ayala and Makati Avenues, 1226 Makati City, Metro Manila,
Contact Nos: +63 2 887 2888                   Fax: +63 2 815 4825
E-mail: pmn@peninsula.com
Website: http://manila.peninsula.com
ADVERTISEMENT - CONTINUE READING BELOW
2. The Blue Leaf Events Pavilion
Strategically located in the middle of the city, The Blue Leaf Events Pavilion is situated near several churches. This special events venue has three pavilions to choose from and offers several amenities. They are also partnered with a variety of caterers you can choose from. There are three pavilions to choose from for your wedding reception, all designed in a Zen, modern style, perfect for a simple, modern wedding reception.
Rates: Depending on the time of day, the number of hours, and which pavilion, the rates range from Php 100,000 - 200,000, including electricity, airconditioning, a sound system and an LCD projector with a screen. However, rates for wedding packages with the partner caterers can reach from approximately to Php 300,000 - 435,000.
Address:100 Park Avenue, McKinley Hills Village, Fort Bonifacio, Taguig City
Contact Nos: +63 2 898BLUE / +63 2 8872175/+63 2 8875687
E-mail: inquiries@theblueleaf.com.ph
Website: http://www.theblueleaf.com.ph/
3.  Plaza Ibarra
Plaza Ibarra is only one among the many venues that Ibarra's Party Venues has. This particular venue provides a variety of wedding packages to suit different types of wedding receptions. Plaza Ibarra combines the comfort of an indoor wedding reception with its air-conditioned ballroom and the whimsical quality of an outdoor celebration with its rustic Mediterrean garden.
ADVERTISEMENT - CONTINUE READING BELOW
Rates: Plaza Ibarra has three wedding packages which range from Php 119,000 - 154,000, which are good for up to 150 guests. These all include set-up, decorations and use of a bridal suite for four hours, among other amenities.
Address: 77 Timog Avenue, South Triangle, Quezon City
Contact Nos: +63 2 922-6868; +63 2 413-0706
E-mail: bqt_plazaibarra@ibarraspartyvenues.com.ph
Website: http://www.ibarraspartyvenues.com.ph/home/index.php
ADVERTISEMENT - CONTINUE READING BELOW
 
4. The Oasis Manila
Located in the heart of the metro, The Oasis' lush foliage hides it all away from the hustle and bustle of the city, where you can have your wedding reception in a quiet but easily accessible place. The facilities of this place include a gallery and a lounge, which can house until 150 guests, and a pavilion for an event with up to 450 guests. It would be best to book about a year before your wedding date to ensure yourself a slot.
Rates: Php 163,00-176,000, depending on time and day. Rates are inclusive of catering, use of bridal suite, dining amenities and decorations.
Address:169 Aurora Boulevard, San Juan, Metro Manila
Contact Nos: +63 2 7214585 / 7245016   Fax:  +63 2 7266832
E-mail: info@oasismanila.com
5. The Glass Garden
The Glass Garden is the perfect venue for a whimsical fairytale event, with its two garden venues, waterfalls, lush greenery, and a staircase for your grand entrance. This special events venue also has suite rooms. It is big enough to house 350-700 guests, and has a parking lot with a capacity of 160. Its green and white frosted glass ceilings add just the perfect touch for your fairytale wedding reception
ADVERTISEMENT - CONTINUE READING BELOW
Rates: Wedding package rates range from Php 154,000-178,500, depending on the caterer, amenities, and time and day.
Address: 257 Evangelista St., Brgy Santolan, Pasig City
Contact Nos: 646-5323 / 748-1727 / 703-2783     Fax: 646.2067            Mobile: 09228570027 / 09278235762
Email: the_glassgarden@yahoo.com.ph
Website: http://www.theglassgarden.com.ph/home
 Photos courtesy of:
    Flashbox, Photo 2-- The Oasis Manila
    Photo 1 -- The Peninsula Manila

Recommended Videos
Comments
Load More Stories