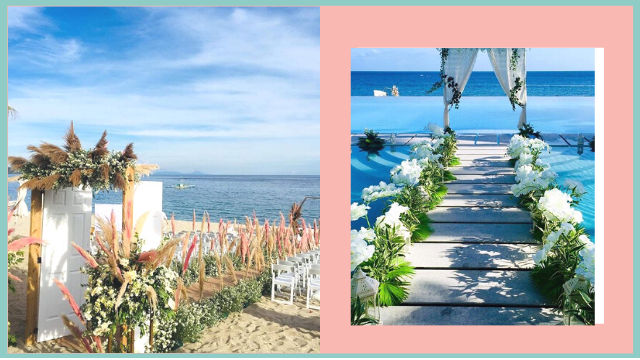 Beach weddings are lovely. However, some brides-to-be from the metro are still intimidated by the idea of having a seaside wedding. It's probably because when people think of beach wedding venues, what usually pops in their mind are destinations that can only be reached by boat or plane from the country's capital.
ADVERTISEMENT - CONTINUE READING BELOW
The good news is, there are actually a lot of nice beaches near Metro Manila where you can turn your dream wedding into reality. Here are some of them:
Beach Wedding Venues That Are Near Metro Manila
1. Acuatico Beach Resort
Location: Laiya, San Juan, Batangas
Contact: 09177069136 / 09992270081, events@acuaticoresort.com.ph, www.acuaticoresort.com.ph
You can think of your beach wedding not only as an important milestone in your life but also as a quick getaway during which you and your guests can recharge and catch up. This isn't hard to do at all, especially if you are getting hitched at Acuatico Beach Resort.
This venue is known for its luxurious suites where relaxation is guaranteed. It even has an infinity pool where you can soak away any stress before walking. And of course, you will fall in love with the beach that's right in front of the property. From here, you always enjoy the magnificent view of Tayabas Bay.
ADVERTISEMENT - CONTINUE READING BELOW
ADVERTISEMENT - CONTINUE READING BELOW
2. Subic Park Hotel
Location: Waterfront Rd, Subic Bay Freeport Zone, Olongapo, Zambales
Contact: (047) 2529978, subicpark@yahoo.com, www.subicpark.com 
Many people may have associated Subic with business and trade, but it's never short of hotels and resorts where anyone can unwind and even celebrate a major life event like a wedding. One of these places is Subic Park Hotel.
This boutique hotel is a perfect blend of leisure and convenience. Apart from having cozy rooms where you and your guests can recharge before and after the big day, it also has a beachfront restaurant from which you can marvel at Subic Bay's waters. In case you need to buy things or do some last-minute preparations for your wedding, you won't have to worry at all, because this property has a very strategic location.
ADVERTISEMENT - CONTINUE READING BELOW
ADVERTISEMENT - CONTINUE READING BELOW
3. Club Punta Fuego
Location: Brgy. Balaytigue, Nasugbu, Batangas
Contact: 8843 8700 / 8584 4405, info@clubpuntafuego.com.ph, www.clubpuntafuego.com.ph
Inspired by Miami's Fisher Island, Club Punta Fuego is a marriage between the charm of modern living and nature's beauty. It's a private beach resort where you and can forget about the rest of the world so you can focus on your special day. The venue also has its own wedding specialist who can help you pull off a hassle-free celebration. 
ADVERTISEMENT - CONTINUE READING BELOW
It has 15 rooms and 33 casitas, which all display the splendor of Spanish-Mediterranean architecture. Some of these rooms have a balcony or veranda where you can appreciate a scenic view of the West Philippine Sea. If you wish to relax before you walk down the aisle, you may soak in one of its pools that also offer great views of the horizon or spend some time in its own spa.
ADVERTISEMENT - CONTINUE READING BELOW
ADVERTISEMENT - CONTINUE READING BELOW
4. Urbiz Garden
Location: 134 Beachfront, MacArthur Hwy, Barangay Urbiztondo, San Juan, La Union
Contact: 09171164868, www.facebook.com/urbizgarden  
San Juan, La Union is known as the surfing capital of the North. But did you know that it's also a great wedding destination? Apart from its well-known surfing resorts that also offer wedding packages, the town also has underrated venues where you can mark the beginning of your happily ever after. One of its secret gems is Urbiz Garden, a humble pension house that has a lush beach garden for intimate celebrations. 
ADVERTISEMENT - CONTINUE READING BELOW
This place happens to be one of the first pension houses and inns in the area. Its main house, which takes inspiration from American colonial architecture, was built in 2001. However, it wasn't until 2007 when it began accepting guests. Nowadays, it is known for its old-school vibe that suits those who unplug. If you're dreaming of a laid-back seaside wedding with only your closest relatives and friends around, this place is for you. 
ADVERTISEMENT - CONTINUE READING BELOW
ADVERTISEMENT - CONTINUE READING BELOW
5. Haya Resort
Location: Lot 7409, CAD. 614-D, Botolan, Zambales
Contact: 09171778836, hello@hayaresort.com, www.facebook.com/HayaResort  
Haya Resort is a beachfront property that also offers an amazing view of the mountains. Since it is located on the side of the town where there are no other resorts yet, you and your guests can have the entire beach to yourselves on your big day. It's really like having your own piece of paradise on Earth.
ADVERTISEMENT - CONTINUE READING BELOW
Speaking of paradise, it is also a great place for relaxation. Apart from its comfy nipa hut cottages and cozy hotel-style rooms, the resort also has a pool bar and outdoor areas where you can loosen up when the festivities are over or before they even begin.
ADVERTISEMENT - CONTINUE READING BELOW
ADVERTISEMENT - CONTINUE READING BELOW
Beach weddings are not beyond your reach. Thanks to these venues, you can quickly escape the busy city life and say "I do" with sand between your toes and while hearing the sound of waves crashing against the shore.
Load More Stories