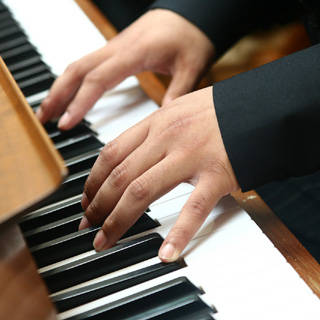 Music plays a big role in setting the mood of your wedding, and while some rely on their MP3 players or iPods, there are still those who prefer live musical performances by a band, choir, or orchestra. Your choice of musical entertainers will definitely depend on your taste in music, which is why it's important to get to know the repertoire of the performers you're eyeing.
Browse through our list below and see which of these popular wedding musical performers suits your wedding.
With their upbeat performances that feature a lot of hopping and kicking as they play their saxophones and trumpets, this blues band can get you and your guests up and swinging. The Brass Munkeys' music is classified under blues and retro swing, which is a fusion of rock, jump blues, and swing. Their repertoire is greatly influenced by British punk rock, jazz, and swing music from the '30s and '40s. They also play Frank Sinatra covers, music of Harry Connick Jr., Royal Crown Review, and some original compositions.
ADVERTISEMENT - CONTINUE READING BELOW
Listen to their sample music here

This group of instrumentalists offers an extensive repertoire that includes pop, jazz, classical, rhythm and blues, Latin, mainstream jazz, and more. Da Capo Music Unlimited's performances--which features hip and classy sounds from the guitar, keyboards, drums, violin, and sometimes even the flute and the sax--set an entertaining and soothing ambiance that pleases both the old and young crowd.

Listen to their sample music here

If you're up for great covers and renditions of pop songs, Sound Salad can definitely deliver them in style for your big day. From your ceremony to the reception, they promise to serenade you and your guests with your choice of heartwarming songs. Sound Salad is no stranger to big events, as they've also done events for local luminaries.
Listen to their sample music here

With ten years in the business, choral group 92 AD boasts much experience in singing for weddings. Their repertoire features both traditional and contemporary music. As former members of the Ateneo Glee Club, their choral training makes their performances of classic pieces notable. Furthermore, their constant exposure to contemporary mainstream music has given their R&B, OPM, and pop music renditions a refreshing youthful flair.
ADVERTISEMENT - CONTINUE READING BELOW
Comments
Load More Stories