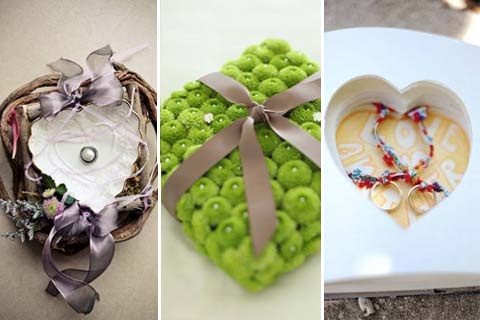 Your wedding rings are symbols of your lifelong love and commitment to one another, and so it is but natural to highlight these precious items on your wedding day.
Traditionally, the wedding rings are laid on pillows, which the ringbearer proudly carries down the aisle. You can opt to use pillows that match your arrhae, but you may also creatively repurpose or embellish other vessels so that they may cradle your rings. Whatever you decide to use, bear in mind that it must be sturdy and must keep your rings safe during transport. The last thing you'll want is for your rings to go rolling down the aisle. Assign a member of your entourage to keep your rings in a safe place and only place them on your ring holders a few minutes before the processional. Also, make sure that it is easy to secure as well as remove the rings from the ring holder. You wouldn't want the best man or groom fumbling with knots and clasps just before he places the ring on your finger.
Looking for ideas for creative ring holders? Check out the gallery below to see ring holders from our featured couples.
You might also want to see:
Comments
Load More Stories